You're balancing both your job in corporate management with graduate school study.
After graduating, I worked for Google Japan, engaging in advertising consulting, search and analytics for small and medium-sized businesses. I had always wanted to start a company one day, so after about a year-and-a-half I left Google and set up my own company. Currently, our main line of business is providing marketing support to large companies, support for new businesses, and providing our own services. Although we are still a small company, with just four or five employees, we are now entering our ninth year in business. We are concentrating on recruitment activities and shifting our focus to management. I joined GraSPP in 2021 at the height of the pandemic, so I'm focusing on online lectures and concentrating my classes on two days a week, trying to make up the time that way, but it's quite a challenge.
What prompted you to enroll at GraSPP?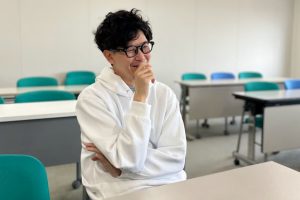 One area that I consider to be part of my life's work is as an election-related writer. As we engage in election forecasting and election support activities, we have many opportunities to speak with mayors, governors, and other municipal leaders and politicians. These interactions made me think that I wanted to work more in the fields of non-profit and public policy in the future, so that's what prompted me to return to learning about government policy. It was also a time when due to the global pandemic there were extremely limited opportunities for new encounters, which is why I decided to enroll at GraSPP, because the idea of learning new and unfamiliar things really appealed to me.
How has your student life been since enrolling at GraSPP?
Many of the teachers at GraSPP are well-known in their fields, the various programs are extremely interesting, and the classes are overall very interesting. I'm taking mostly classes in English, and the atmosphere in class is completely different from how it was when I was an undergraduate, which surprised me a little at first. There are many overseas students at GraSPP, and their commitment to participating in discussions is really very strong.
Seeing how they approached discussions stimulated me to get more involved and not to just stay quiet. Many of my classmates have a wealth of knowledge in various professional fields, so you always learn something in discussions, and they are also enjoyable. One thing I would have to say I regret is that I didn't have many opportunities to talk to or interact with my classmates, as most of the classes were online. I would like a few more friends, so I'm still looking to make some new ones! (laughs) Although the schedule is tough, I will concentrate even harder this year and aim to graduate successfully!
How do you plan on utilizing what you have learned at GraSPP in your work and life?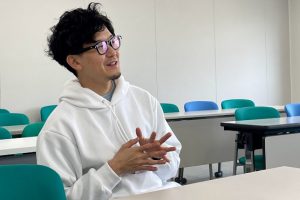 Thanks to my studies at GraSPP, the policy-making processes, which previously seemed nebulous and unclear, have been clarified and my degree of understanding has also improved. I've come to think that there is an interesting difference between being involved in politics at the practical level and being involved in politics as an academic discipline. It can be quite difficult to connect business with public policy, but professional knowledge should be the key to being able to do this. My own strengths are in marketing and IT, so I will leverage those skills and take an approach that looks at public policy from a marketing perspective. Marketing concepts are important in everything I do, so I would like to do something that contributes to society while utilizing the expertise I possess.
(from the Student Interview of GraSPP Newsletter No. 69)