Deadlines/Event Dates October 31, 2018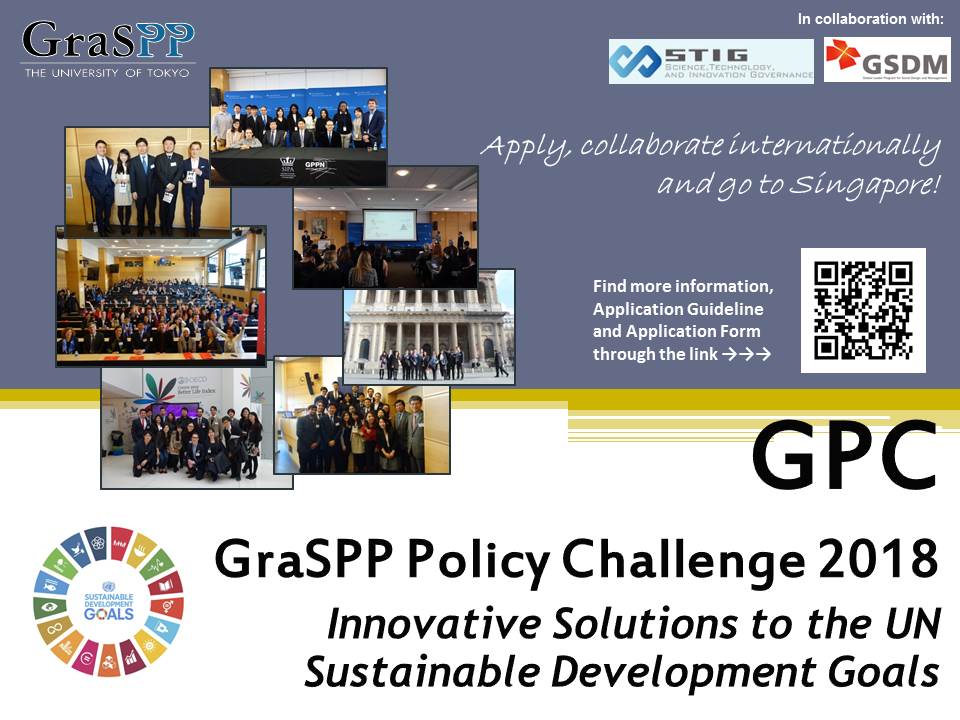 -Apply, collaborate internationally and go to Singapore!!
GraSPP Policy Challenge(GPC)is a new initiative at GraSPP, in students from different background collaborate and seek to improve their team-building and policy-making skills. Participants are tasked with responding to pressing real-world policy challenges as a group, and with designing policies and proposals in response to those challenges.
All GraSPP students are strongly encouraged to apply. Finalist groups will be ultimately invited to present at the GPPN Student Conference hosted by Lee Kuan Yew School of Public Policy, National University of Singapore in March 2019.
GPPN partners and their student groups will develop creative technology and policy solutions to challenges around the UN Sustainable Development Goals (SDGs). Students would be invited to produce either short applied concept papers or applied projects. Students from each partner university will have the opportunity to apply to present a project/idea before the deans and students from GPPN schools, as well as special invited guests.
You will be tasked to develop creative solutions around the below core Sustainable Development Goals (SDGs):
<Application>
Please form a group of 4-5 students and apply through here by 31 October. If you face difficulties with finding your group members on your own, you can also apply individually and leave GraSPP to find your team mates. Announcement of the groups and advisors will be made by 9 November.
<Eligibility>
Must be a student who is currently enrolled in GraSPP, STIG, or/and GSDM
<Credits>
You can register this initiative as a Case Study course "GraSPP Policy Challenge" in A2 term. Those who complete the final assignments will earn 2 credits. (This course can be taken repeatedly and counted as up to 4 credits.)
<Contact> GraSPP International Affairs Office: intl_application@pp.u-tokyo.ac.jp