Deadlines/Event Dates January 20, 2019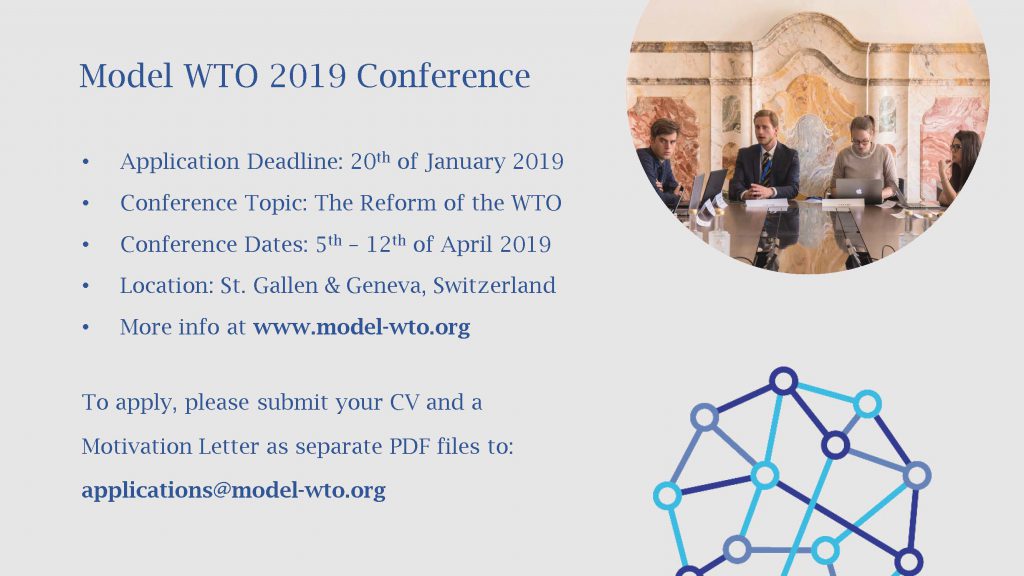 As the Organisation Committee of the Model World Trade Organisation we would like to provide you with relevant insights regarding the 2019 Conference with the aim of raising awareness about the event among students of the University of Tokyo.
The seven-day Model takes place from the 5th to the 12th of April 2019 in St. Gallen and Geneva, at the Graduate Institute and the WTO Headquarters. Attendants interested in international trade will represent delegates of 12 countries in 6 committees and will simulate official WTO negotiations on the heated topic of "The Reform of the World Trade Organisation". Participants will have the opportunity to speak to the diplomatic missions of the represented countries as well as network with prominent WTO officials, experts, and diplomats.
Organised by a team of students from the University of St. Gallen since its first edition in 1997, the Model's conference has established itself as the biggest simulation of negotiations of the WTO in the world, with the participation of 72 international students and the assistance of a prestigious Advisory Board of experts.
[Model WTO]
Conference Topic: The Reform of the WTO
Date: April 5-12, 2019
Venue: Graduate Institute and the WTO Headquarters, in St. Gallen and Geneva, Switzerland
Application Deadline: January 20, 2019
Please see: