Deadlines/Event Dates November 7, 2022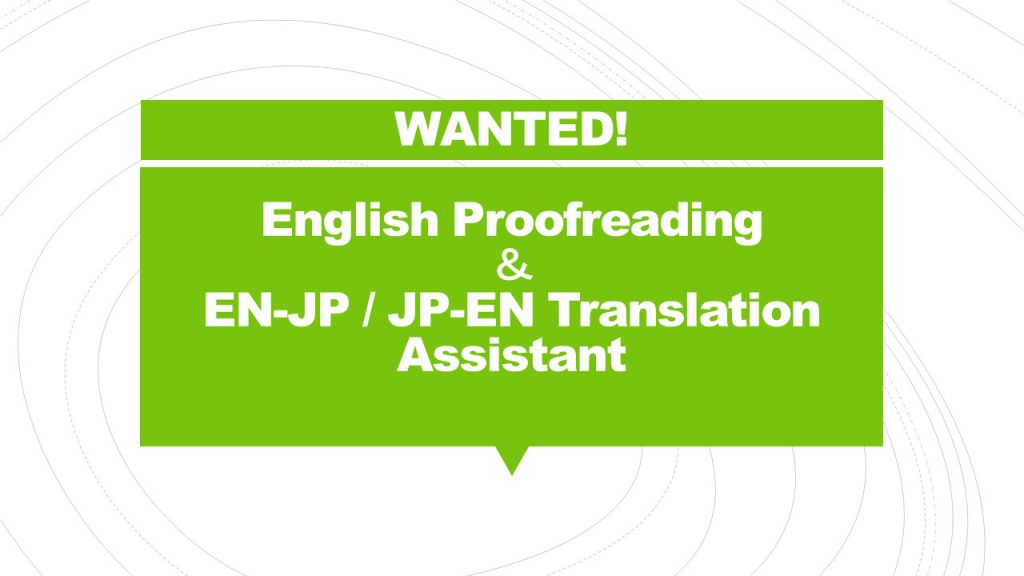 GraSPP Office is looking for students who could help with English proofreading and English-Japanese (or Japanese-English) translation.
Requests for proofreading/ translation will be sent irregularly and will be paid per document product.
Responsibilities:
-Proofreading reports written by students/ alumni.
-Translating reports written by students/ alumni.
-Proofreading or translating other articles/ documents that will be shown on our website, newsletter, etc.
*Contents will be rather general than academic.
*Please indicate which tasks (English proofreading, Japanese-English translation, or English-Japanese Translation) you are capable.
Requirements:
1.     Applicants must be currently enrolled in GraSPP.
2.     Applicants must have sufficient reading & writing skills in English.
3.     Those who have experience in writing articles & columns, or have experience in English-Japanese or Japanese-English translation are appreciated.
Number of assistants:
2-3
Remuneration:
Proofreading- 5yen per word
Translation- 3,100-5,400yen per page
*Paid in accordance with the rules and regulations set by UTokyo.
*The amount of withholding tax will be deducted from each payment.
If you would like to apply for this position, please send the documents below to ppsupport.j[at]gs.mail.u-tokyo.ac.jp (Sato)
1.     CV
2.     Cover Letter
3.     Proofreading or translating performance records (documents), if any
*Please send the documents in PDF files.
Deadline:
Monday, November 7th
Inquiries to: ppsupport.j[at]gs.mail.u-tokyo.ac.jp (Sato)