Deadlines/Event Dates October 18, 2021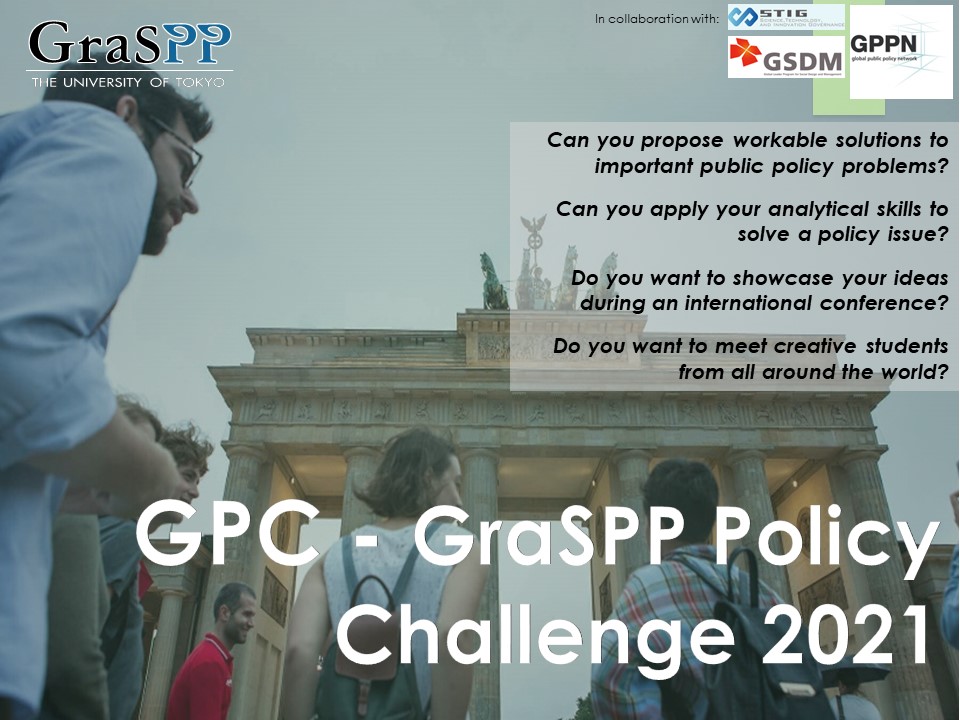 GraSPP Policy Challenge 2021: Global Innovative Public Policy Solutions
Do you have a proposed solution to an important public policy problem?
Can you apply your analytical skills to solve a policy issue?
Do you want to showcase your idea during an international conference?
Do you want to meet creative students from all around the world?
GraSPP Policy Challenge (GPC) offers a unique opportunity to students from diverse background to collaborate and seek to improve their teambuilding and policy-making skills. Participants are tasked with responding to pressing real-world policy challenges as a group, and with designing policies and proposals in response to those challenges.
All students from GraSPP/STIG are strongly encouraged to apply. Finalist groups will be ultimately invited to present at the GPPN Annual Conference 2022* hosted by Hertie School, Berlin in March 2022.
We are inviting students to identify an important policy challenge in any public policy field and in any regional, international or national context. Students should form teams between 4 and 5 members and work together to develop their proposals. Each school of the GPPN will send up to 20 students in total.
We are looking for student presentations on public policy proposals that:
Identify a an important and pressing public policy problem;

Present a convincing and innovative solution and demonstrate why this proposal is appropriate to solve the policy problem identified;

Explain how the solution shall be implemented and what implementation challenges will need to be overcome, taking into account available knowledge and the context in which the policy challenge occurs.
The proposal should be concise but clearly argued and based on evidence from practice and/or research.
Proposals will be assessed against the following criteria. (These are the same criteria as will be used at the conference.)
25% Problem Analysis

15% Strength of Solution & Real-World Feasibility

15% Implementation Analysis

15% Long-Term Sustainability

20% Quality of Presentation
Students should form teams of either 4 or 5 members and work together to develop their projects.
The group must consist of 4-5 Master's students who are currently enrolled in GraSPP and/or STIG and apply via: online form by 18 October (midnight, JST). You may also apply individually and leave GraSPP to find your teammates. Announcement of the groups and advisors will be made by 20 October.
12 October: 12:20-12:50 – Info session *Pre-registration required
18 October: Application deadline
20 October (TBC): Briefing Session – Announcement of the Advisors and groupings
21 November: Deadline for Research Proposals
22-28 November: Feedback on research proposals by professors
6-10 December: A2 Course Registration
15 December (TBC): Presentation and selection of GPPN Conference participants & Announcement of Finalists
24 January 2022: Deadline for submission of PPT slides and a final policy proposal
Early February: Presentation Rehearsal (*GPPN participants only)  
5-6 March: Attend the GPPN Virtual Conference 2022 in Berlin                   
You can register this initiative as a Case Study course "GraSPP Policy Challenge – Global Innovative Public Policy Solutions" (5140735) in A2 term. Those who complete all the requirements will earn 2 credits. (Grades: Pass/fail) 
* Course registration for A2 term is required separately to earn credits. For more information, please check the course syllabus. This course can be taken repeatedly and counted as up to 4 credits.
***************************************************
GPPN Annual Conference 2022
Saturday 5 and Sunday 6 March 2022
Hosted by the Hertie School in Berlin
The Hertie School in Berlin will host the 2022 international conference of the Global Public Policy Network (GPPN) on Saturday 5 and Sunday 6 March 2022. Students selected to participate will have the opportunity to compete against teams selected from seven of the most prestigious schools of public affairs and to network with students from all over the world.
Format:
Teams and proposals selected by their policy school to participate in the GPPN Conference at the Hertie School will each give an "elevator pitch" presentation of up to 3 minutes on the first day, followed by questions of the jury.
The Jury, composed of the Deans of the GPPN schools, will select up to 10 teams/proposals. The teams will compete against each other on the second day of the conference. The second presentation will be for up to 5 minutes, followed by questions from the Jury. The presentation should seek to answer the questions raised by the Jury and integrate the feedback provided during the first round of the competition. Participation in the second day of the Conference is mandatory for all students.
All students will have the opportunity to participate in academic and social events organised by the Hertie School during the conference.
Conditions for participation:
The Hertie School is planning for an in-person event but it reserves the right to switch to an online or hybrid format depending on the evolution of the Covid-19 pandemic and possible travel restrictions.
We would like to make the GPPN conference a safe and enjoyable experience for all participants. Students will be required to show proof of vaccination or immunization against Covid-19 before entering the campus of the Hertie School. Students who cannot be vaccinated or whose vaccine is not recognised by the European health authorities (see list here) will be required to present a valid antigen test less than 24 hours old before entering the campus. Depending on applying regulations, students may be required to wear face coverings. Students who do not fulfil these conditions will be refused access to the event, and may be required to reimburse travel and accommodation costs.
Please note that proof of vaccination may also be required by German border authorities prior to travel for geographical zones classified as high risks. You may find information on German regulations and an updated list of risk areas here.
Travel reimbursement:
For the participants of the GPPN Student Conference 2022 to be held in Berlin, up to JPY 100,000 will be subsidized as travel expense by GraSPP.
-The reimbursement will be made after your return upon submission of the air ticket stubs and a report.
– Accommodation in Berlin (up to 3 nights, check-in on Friday 4 March and check-out on Monday 7 March) will be paid for and arranged by the Hertie School.
– Students should be responsible for all expenses and related costs in excess of these amounts. The expenses noted above are the only expenses that will be covered by GraSPP, so all applicants should plan accordingly (meals, local transportation, supplies, visas, additional travel cost related Covid-19, etc will not be covered by the program).
Don't hesitate to contact us if you have any questions regarding the course.
Coordinator: Aoi Ohno (aoi.ohno@mail.u-tokyo.ac.jp)               
GPC 2021 Info Session:

12:20-12:50, Tuesday, 12 October

*

Pre-registration

required