Summary
,
Ceremony
AY2020 GraSPP Autumn Diploma Presentation Ceremony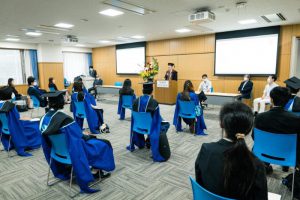 The GraSPP Autumn diploma presentation ceremony AY2020 took place on Friday, September 18 at SMBC Academia Hall in the International Academic Research Building.
59 students were conferred the diploma this September.
In order to prevent spreading the Coronavirus, the ceremony was conducted on a smaller scale and  the diploma was presented by Professors of the Graduate School of Public Policy and congratulated for their completion of the program together with GraSPP staff.
The commendation ceremony for high-achieving graduates was also held. The Best Performance Award was presented to one student in PhD program and one in Master program respectively.
Dean's message to graduate students
With conferring the degrees by President Gonokami this morning, you are now officially the graduates at the U of Tokyo, Graduate School of Public Policy.
Congratulations for your excellent achievement. On behalf of the staff members at GraSPP, I am proud of you for this great milestone of your lives. Congratulations also to your families and friends, siblings, partners, and the loved ones. Some of the graduates gather virtually for this exciting moment. The GraSPP is one of the few departments at the U Tokyo to hold this in-person ceremony under the careful supervision of the university headquarter. Under the instruction, we are ensured that this convention is safe to ourselves and others, as long as we follow their guideline, and the ceremony should hold for a little over half an hour. So, my talk has to be very brief.
First of all, starting of this year, you had to stay away from our physical campus, and had to give up the last and important parts of your days with classmates on the university premise, and I am sorry that had to happen. The spread of the virus is bringing many challengers to almost all people. I offer my deepest sympathy to all who have suffered health, and who experience difficult time traveling back from other places to Tokyo, or from Tokyo to home countries. This pandemic brought about terrible social and economic consequences, and still many difficult days lie ahead.
But I am rather hopeful about the future over this pandemic. During the crisis, we have discovered a new understanding of friendship, linkages, connectedness in a community large and small, and realize how dependent we are. We also recognize how much we need good governance, to work together effectively and efficiently. We have seen in the world that cities and states with low casualty from the pandemic often spent resources based on scientific evidence and rational thinking. Cities and states that ignored advice of experts have suffered for longer duration and did not thrive. Good governance often overcomes short-sighted thinking and prepare effectively for the future. During your days at GraSPP, you learned many things, economics, international relations, law and public administration, among many others. As time goes by, what you learned will become the basis to reinforce your rational thinking and the ability to sort out right scientific evidence. You now leave the GraSPP and go forth to the world that has been totally changed. Your skills acquired at GraSPP will advance good governance, and will contribute to your organizations, communities, or your countries.
Please be safe, be healthy, and stay in touch. Keep us updated how you do. We are always here to welcome you back at any time. Again congratulations!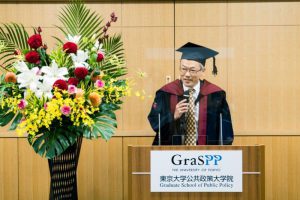 Hiroshi Ohashi, Dean
Graduate School of Public Policy, the University of Tokyo