Student Activities
,
Award
Mr. Hiroaki Nawa, a first-year public management course student, won the Excellence Award at the academic paper competition held by KPMG AZSA LLC.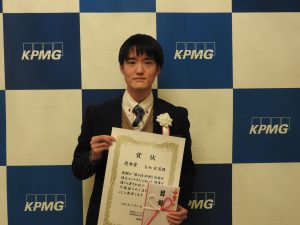 ~Comment from the awardee~
In the essay competition themed "For the Future of Kansai to be Chosen by the World", I presented a policy proposal on digital twin. I wrote the paper with hints from case study classes I took this spring semester, and I was pleased that the judges especially appreciated the logical consistency. On the other hand, I regret that I was not able to make a fully concrete and realistic proposal within the word limit. With this experience and learning from the GraSPP, I will make efforts to achieve greater results.