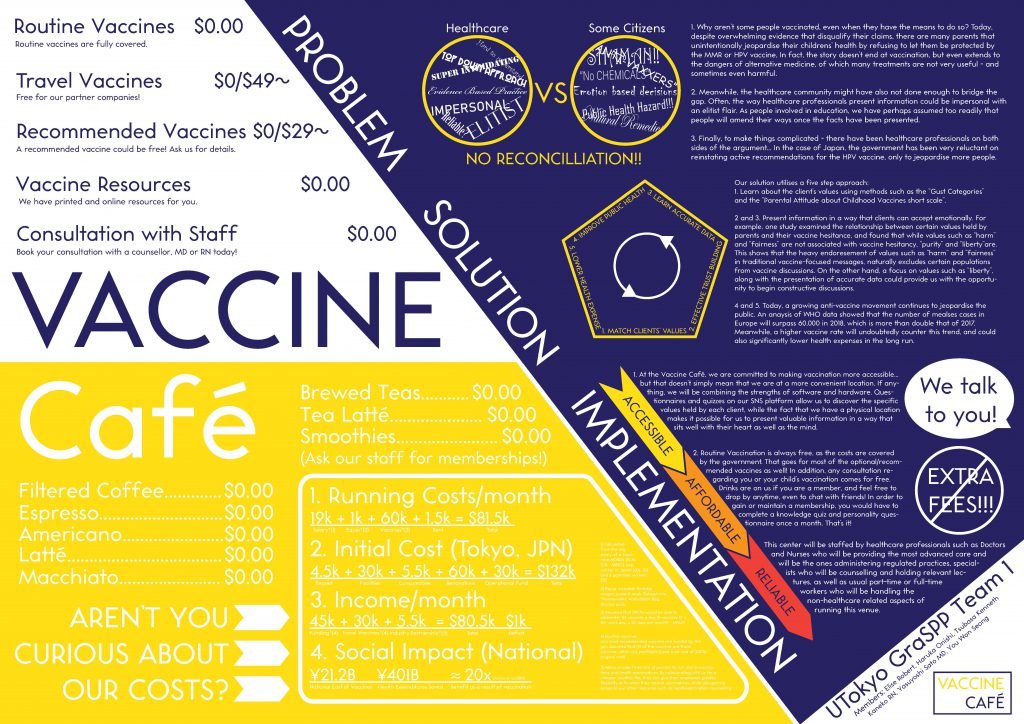 The questions surrounding vaccine implementation are often somewhat forgotten despite it being a problem that affects both the developed and developing world alike. The sheer amount of wealth or knowledge in a country is not sufficient in keeping its residents healthy, independent of efforts that make healthcare not just financially but also emotionally or instinctively accessible. Our proposal, Vaccine Café aims to provide a place that connects healthcare professionals with the citizens. Our idea is to combine the strengths of the different information sources that are currently available in order to create a new space where people can access information about vaccine that would be accurate, interactive and accessible. That space, as we imagined it, would take the form as a hybrid between a café and a clinic. It would have the accessibility and interactiveness of a café, while having the accuracy and the medical resources of a clinic. Vaccine Café will be a free space for communication and education about vaccination.
]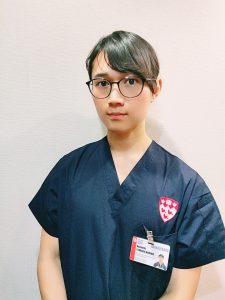 Tsubasa Kenneth Kaneko
Tsubasa Kenneth Kaneko's first encounter with policy making came at the Model United Nations conference he helped organise while an undergraduate student. Surrounded by those studying politics and law, the science student and aspiring Nurse recognised the necessity for Healthcare Professionals and researchers alike, to receive information regarding how applications regarding our technologies and practices are determined at the policy level. Today, as a Registered Nurse and a student enrolled in the Graduate School of Public Policy at the University of Tokyo, he holds a strong interest in promoting personal aspects of healthcare and pursues emerging technology governance. After finishing his studies, he hopes to spend time in the tech industry as a policy advisor, and eventually find his way back to healthcare to help apply innovative technologies to communities in need.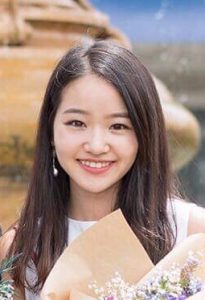 Haruka Onishi
Haruka Onishi received bachelor's degree from the University of Melbourne  with major in International Politics and Asian studies, and is currently pursuing her master's degree in Public Policy at the University of Tokyo. During undergraduate degree, she focused on education policies and has partook in various internships and volunteering activities in relation to education. Towards the last year in undergraduate degree she grew interest in public health, and gained interest in healthcare policies. With particular interest in the role education plays in public health, she currently interns at public affairs consulting firm focusing on healthcare industry.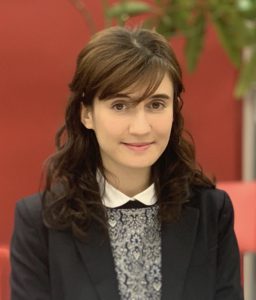 Elise Robert
Elise was born and raised in France. She is currently a second-year graduate student in the Graduate School of Public Policy at the University of Tokyo where her main area of focus is International Relations.  Before that, she studied for three years in Canada and was awarded a bachelor's degree in international studies in 2017 from the University of Montreal. In 2016, she studied abroad in Japan for the first time where she learnt to speak Japanese and developed a strong interest for Japanese culture and Japanese society. After she graduates, she wants to stay in Japan and work in International Affairs. Elise speaks French, English and Japanese.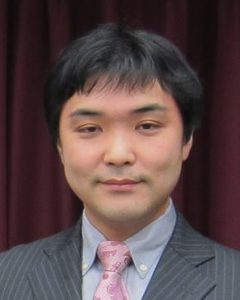 Yasuyoshi Sato
Yasuyoshi Sato is a doctoral course student of Graduate school of Medicine, The University of Tokyo. He is also a Medical Oncologist (board certificated by JSMO, Japanese Society of Medical Oncology). He is currently working on researches of immuno-oncology, too.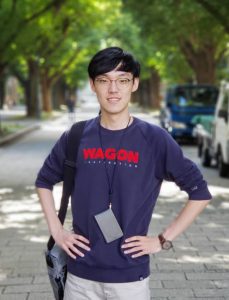 You Won Seong
You Won Seong is a first year MPP/IP student with CAMPUS Asia Program at the University of Tokyo. He holds a BHSc from Western University of Canada in Health Science and East Asia Studies. His interest lies in healthcare, aging, and medicine particularly focused on contemporary East Asian societies. Previously, he did medical internship at Genomic Medicine Institute of Korea and research on Long QT Syndrome at the University Hospital, Western University of Canada. He aspires to specialize in the areas of healthcare system and services in East Asia with cultural, social, and medical perspectives.