It was an amazing experience to participate in the GPPN Conference 2021 . From the point of signing up to the formal presentation in March 2021, it represented the process "from 0 to 1" and embodied a novel-like theme. The only thing we were sure of from the start, perhaps, was the destination. Other than this, we had to conceive a unique idea and develop it into a well-organized policy proposal.
 I still remember the day when I was invited into our team's communication group. The chatroom is called "Road to GPPC 2021" but we did not have any thoughts then. Honestly speaking, I only regarded it as a metaphor at the first glance. Since we started with nothing, I doubted how far our team could reach.
 After the process of brainstorming, we reached a consensus on our topic and direction. The brainstorming phase seemed to be easy and swift, but it actually took several weeks of intensive research and discussions. When we finished sketching a map to our destination, we started to march towards it. Just like the theme of adventurous novels, there were a lot of challenges waiting for us.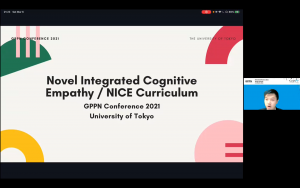 Several difficulties soon emerged in our original proposal, those factors significantly lowered the persuasiveness and feasibility of our policy design. We had no choice but to adjust our direction. This decision brought enormous frustration to us then, but we soon regathered passion to start again. If we did not experience this re-route, we might never come up with our NICE curriculum plan.
 Fortunately, we received many helpful suggestions from erudite professors and passionate friends in the University of Tokyo. Their feedbacks shed light on the blind spots we never noticed and strengthened the foundation of our policy research. Our group cultivated a habit in this process, recording every feedback we received. The collection of questions became the starting point for the next phase. With agile adjustments and an accumulation of resources, we managed to make our proposal more feasible and concrete.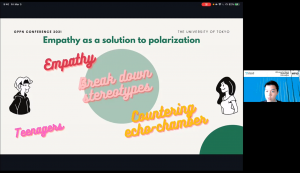 After delivering a presentation in GPPC, I looked back on the way we came through. Starting from no particular idea in mind, we experienced frustrating se tbacks and a major adjustment, but also received help and forged our idea into a feasible proposal. I started to realize that the "Road to GPPC 2021" was not only a metaphorical slogan but a bittersweet and fruitful journey. It was even more depictive since we often had to "find a way out" and adjust our direction contingently. I was very fortunate to step on the journey with my clever teammates, who always showed passion and confidence. Being prudently optimistic and seeing the silver lining of each cloud was the attitude embedded in my teammates' expertise.
 With my teammates' enthusiasm and the selfless help from professors, classmates, and the staff of the University of Tokyo, it is wonderful that the "Road to GPPC 2021" came into a meaningful reality.