After many months of waiting, uncertainties and worries nurtured by the pandemic and the strict sanitary measures imposed by many governments, including Japan, landing in Tokyo in April 2022, in the middle of my academic year, felt unreal. I had just completed a year and a half of my Dual Degree online, in my French countryside, and I knew I wanted to spend the last six months of it fully enjoying it on the Hongo Campus at the heart of Tokyo.
The least I can say is that I was not disappointed. Not at all. Personally wise, academically wise and professionally wise, the experience I had at GraSPP in general, but more importantly this semester in Tokyo, went far beyond my expectations. Undeniably, this is mainly due to the incommensurable support of the faculty staff, members, including professors, and scholarship personnel, who all made this difficult experience for us, the COVID-19 generation, less sufferable and kept providing us with an incredible amount of benevolence and understanding. But this experience has also been wonderful thanks to the students I connected with, the many professors who guided me, and the incredible friends I could make outside of the classroom.
Of course, after almost two years of online studying from my room, arriving in Tokyo was a shock. I had already spent one full year in Japan during my exchange year a few years ago, but I did not remember it to be so vast and crowded. Adjusting to Tokyo took me some time, patience, and good memory to vaguely remember my Japanese grammar books (I had already given up on kanji at this stage of my life). Undertaking the procedures upon arrival was fast and made easier by the University providing us with language support (I had the chance to have a fabulous lady coming with me to the ward office, post office and bank to support me, all in one day!). This support was always supplemented by the helpful attitude of many Japanese staff at these places who definitely make my life as a foreigner with an N3 level way easier when needed. For those who want a funny anecdote to compare Japan with most European countries (in terms of helpfulness, honesty and good behavior), I lost 60,000 yen at the airport when I arrived in April when trying to charge my two years old Suica card at the ticket machine. I could not believe the station staff had found my bills, kept them in a sealed envelope, and returned them to me when I visited the office two days later. They even seemed happier and more relieved than me that I had found my money back!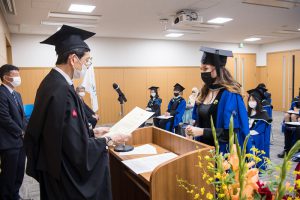 This general attitude of Tokyoites definitely echoes the one of GraSPP. The international environment is welcoming, and thriving, with people from so many countries I lost count, professionals, young graduates who had jumped from Bachelors to Master's like me, future researchers, national politicians, international organization workers… Although I had the chance to meet them in person only at the end of my degree, I have learned a lot from sharing online and offline classes with them, and all of the GraSPPers have undeniably helped me grow in some way or another. Academically wise as well, the wide range of classes offered at GraSPP, from very theoretical to very practical, from widely general to oddly specific on certain topics, offers unlimited possibilities for learners who love challenging themselves learning public policy through many lenses, like me. I originally had chosen the Dual Degree with SciencesPo to complement my French vision of the world and my specialty in Security and Defense Studies with a more Asia-centric and Japanese-centric view I could unfortunately not find easily in Europe. GraSPP offers to this extent an incredible catalogue of classes related to this topic, of course, taught by brilliant professors who have worked with Security and Defense-related officials or at NATO for example.
Enriched by this experience at GraSPP, I hope I will myself be able to pursue a research or public policy career in Japan, either by joining a company directly, a think-thank, or why not a PhD program. In any case, I intend to stay in Japan for a long while and to keep nurturing my love relationship with Japan.
I leave GraSPP with a heart full of gratitude, a head full of knowledge, and a hand full of new friends.