Deadlines/Event Dates June 30, 2020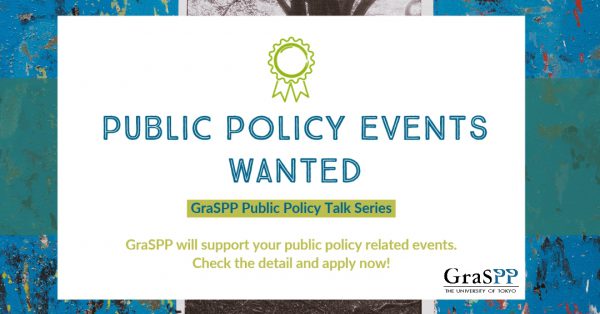 GraSPP will support your public policy related events!
Details of supports from GraSPP and application are as follows;
1.      The event should be public policy related theme that GraSPP students, alumni, faculty members, and/or any other person who is interested in GraSPP or public policy issues could learn from it.
2.      GraSPP can support advertising of the event via GraSPP webpage and twitter, and provide classroom (including equipment).
*If you need any other support, please consult with GraSPP staffs.
3.      Please apply from here
4.      We may ask for adjustments depending on the content of your event.
5.      Once you received the final approval from GraSPP, you may begin with preparation.
6.      After the event, we will request for a summary report of the event to post in our website.
If you have any question, please feel free to ask us; graspp.pr[at]pp.u-tokyo.ac.jp