Deadlines/Event Dates January 31, 2022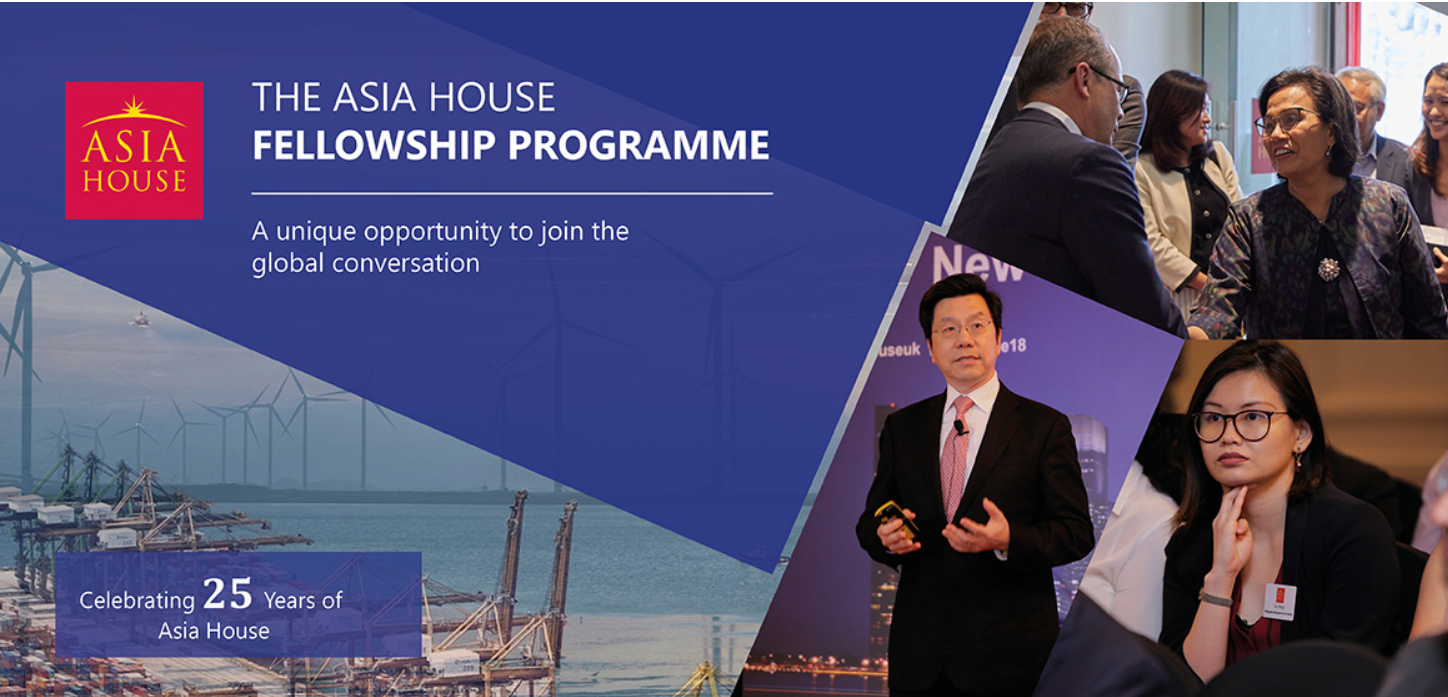 The Asia House Fellowship Programme
A unique opportunity to join the global conversation
Asia House has launched a new Fellowship Programme to develop the next generation of business and policy leaders. This is a unique 12-month opportunity for two postgraduate candidates who share Asia House's vision for a strong and dynamic relationship between Asia, the Middle East and Europe.
The Fellows will each conduct a major research project on the issues driving change across Asia and the Middle East. Their research will be published and distributed by Asia House to its wide network of senior business and policy figures and will inform the Asia House programme of engagement with global leaders.
Research topics
Two funded Fellowships are available in 2022. Applications are invited for original research which will drive forward the debate shaping global trade. The research will ideally fall under one of the following broad categories:
• Geopolitics and trade
• Technology and data
• Energy and sustainability
Download the Asia House Fellowship Programme brochure
Benefits and Eligibility 
The Fellowships offer a 12-month opportunity to focus on a large piece of research that will be distributed among Asia House's international network of leading figures from government, trade, business, and technology – including our founding stakeholders: HSBC, Standard Chartered and Prudential.
Fellows will receive research support, a mentorship scheme and leadership advice, alongside the opportunity to be part of Asia House's renowned business and policy programme and build professional contacts across our network. Fellows will also receive a stipend of circa £24,000.
The Fellowship is open to all nationalities, with the roles expected to be remote. To be eligible, candidates must:
• Be fluent in written and spoken English.
• Have a completed Masters and/or PhD by October 2022.
• Be self-driven and enthusiastic, with leadership potential.
• Have a keen interest and knowledge of economic/political/commercial issues affecting Asia and/or the Middle East.
How to apply 
To apply, please send the following to: fellowship(at)asiahouse.co.uk
• A personal statement (one page max) about yourself and why you want to be an Asia House Fellow.
• CV (no more than two pages) which must include details of your academic research background and any leadership experience.
• An outline of your proposed research project (maximum two pages).
• Two professional/academic references.
Closing date: 31 January 2022
More information can be found below.
Asia House Fellowship Programme Brochure 2021 2022 Digital
If you have any queries about the Fellowship Programme, please contact fellowship(at)asiahouse.co.uk