Deadlines/Event Dates July 13, 2022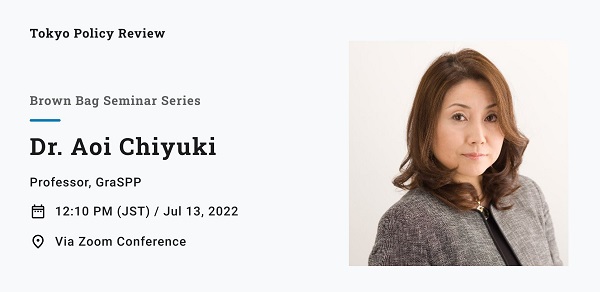 The Tokyo Policy Review, a student journal operated by GraSPP students, is hosting an online lunchtime seminar with Professor Aoi Chiyuki on 13 Jul 2022, 12:10 PM (JST). The session will be about strategic communications in the ongoing war in Ukraine.
Professor Aoi Chiyuki is a Professor of International Security at the Graduate School of Public Policy, the University of Tokyo. She also serves as a member of the Editorial Board of Defence Strategic Communications, the official journal of NATO Strategic Communications Centre of Excellence. Since June 2022, she directs the Strategic Communications Research and Education Unit (SCERU) established at GraSPP with support from the European Union.  In August 2018, she was elected a member of the Shinzo Abe administration Council on Security and Defense Capabilities. Her main research interest is the use of force in the post-Cold War era, the transformation of warfare, especially with regard to technology and information, strategic communications, and Japanese national defense and strategy.
The seminar is only for current GrasPP students. Only UTokyo Zoom accounts will be able to access the seminar. Recording and/or uploading of the seminar's material to the Internet is strictly prohibited. Pre-registration is required.
Sign up by 11 Jul 2022 (Mon), 11.59 pm JST at https://forms.gle/8nZjqPQvbpfxYvhD9.
If you have any queries, please direct them to the TPR editorial team at tokyopolicyreview@gmail.com.