Guest Speaker Seminar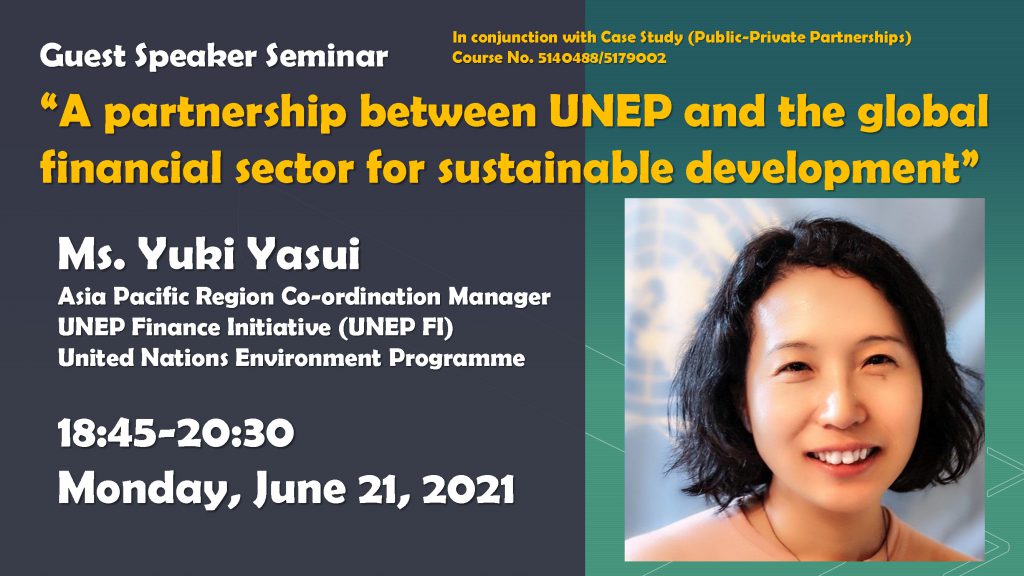 Guest Speaker Seminar with Ms. Yuki Yasui "A partnership between UNEP and the global financial sector for sustainable development"
This guest speaker seminar is organized for UTokyo students in conjunction with Case Study (Public-Private Partnerships).
Date and Time: 18:45-20:30 on Monday, June 21, 2021
Guest Speaker: Ms. Yuki Yasui, Asia Pacific Region Co-ordination Manager, UNEP Finance Initiative (UNEP FI), United Nations Environment Programme
About the guest speaker: Ms. Yuki Yasui has been working on sustainable finance for the last 18 years. She moved to the UN Environment Programme's (UNEP) Asia Pacific Office in 2018 to expand UNEP Finance Initiative (UNEP FI) activities in the region. Before joining the United Nations, Yuki was at PwC in London and is a qualified chartered accountant (ACA). She has a BSc from the London School of Economics and an MSc from the University of Oxford.
https://th.linkedin.com/in/yuki-yasui-b029a71b
Agenda
Introduction
Setting the scene—No one business can manage oneself out of today's global environmental and social (E&S) risks such as climate change. What does this mean for a bank and what do you think are the solutions?
What does "repurposing of business" and "stakeholder capitalism" mean? How are they related to the Net Zero Carbon Neutrality pledges by EU, China, Japan, Korea and the US?
Banks are urged to move from "future takers" to "future makers." This statement is about the changing business models of banks. What are the roles of banks in the Net Zero Transition?
Conclusion—Why UNEP is partnering with the global finance industry
Language: English
Registration: This lecture is only open to UTokyo students. Those who are not enrolled in Case Study (Public-Private Partnerships) are asked to register via the following link.