Guest Speaker Seminar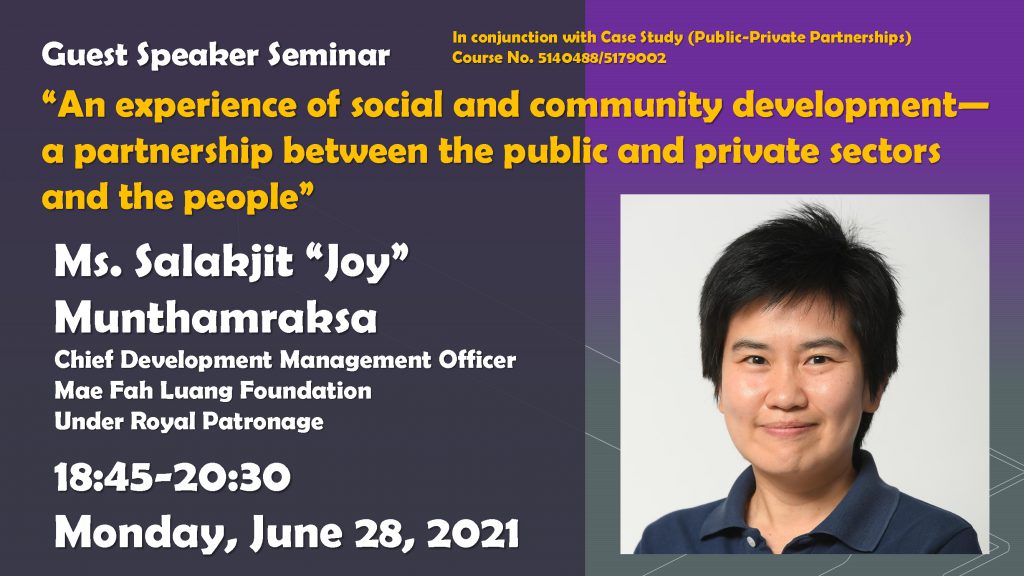 Guest Speaker Seminar with Ms. Salakjit Munthamraksa "An experience of social and community development—a partnership between the public and private sectors and the people"
This guest speaker seminar is organized for UTokyo students in conjunction with Case Study (Public-Private Partnerships).
Date and Time: 18:45-20:30 on Monday, June 28, 2021
Guest Speaker: Ms. Salakjit "Joy" Munthamraksa, Chief Development Management Officer, Mae Fah Luang Foundation Under Royal Patronage, Thailand
https://www.weforum.org/people/salakjit-munthamraksa
About the guest speaker: With over twelve years of experience in the field of development, Ms. Salakjit Munthamraksa is currently working as Chief Development Management Officer at the Mae Fah Luang Foundation (MFLF), a Thai-based not-for-profit organization working in sustainable development. Her work encompasses rural development project implementation in Thailand and abroad, as well as international outreach on promoting balanced development of economy, society and environment. She also oversees the Foundation's Knowledge and Learning Center, responsible for knowledge management, living university, and youth development. Salakjit is a Development Studies graduate from University of Cambridge, United Kingdom, with her first degree in International Relations from Chulalongkorn University, Thailand.
MFLF – Mae Fah Luang Foundation under Royal Patronage
Agenda
18:45 Introduction by Prof. Nishizawa
18:50-19:40       Ms. Salakjit Munthamraksa's talk "An experience of social and community development—a partnership between the public and private sectors and the people"
What do the people get?
The three bottom lines
People-planet-prosperity
Public-private-people partnership
Social innovation
19:40-20:30       Discussion with students
Language: English
Registration: This lecture is only open to UTokyo students. Those who are not enrolled in Case Study (Public-Private Partnerships) are asked to register via the following link.