Guest Speaker Seminar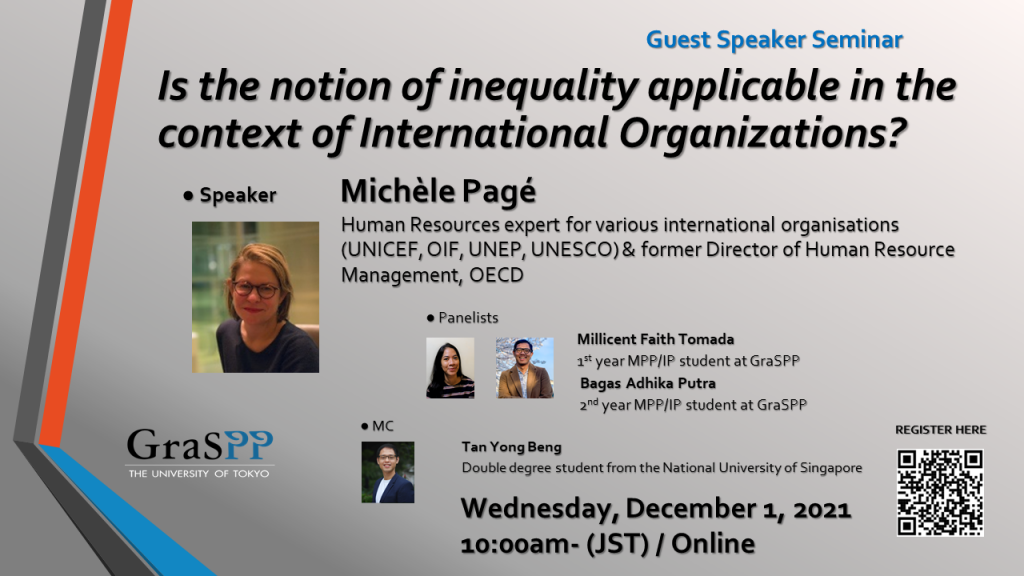 Starting with what constitutes inequality, the presenter will interact with the audience on the notion of inequality and see where it applies to internal organisations. Are there better opportunities for some people and if so, what could be the root cause of these inequalities? Based on her experience, the presenter will share some initiatives in International Organisations to create a level playing field for all to have an equal chance of succeeding.
Speaker's biography
Michèle Pagé
Ms. Pagé began her international career in 1999 in Rome with the World Food Programme, United Nations. She then worked in New York and Copenhagen with the United Nations Office for Project Services. In 2007 she joined the OECD in Paris as Director of Human Resources. Since the beginning of 2020, Ms. Pagé acts as Human Resources expert for various international organisations (UNICEF, OIF, UNEP, UNESCO).
Throughout her career, Ms. Pagé has served on different Boards. Among other things, she served as administrator and chair of the board of the Association for Human Resources Management in International Organizations (AHRMIO) from 2007 to 2016. In 2014, she was an advisor to the Advisory Board of the Master in Public Affairs of the Institut d'études politiques de Paris (Sciences Po Paris). She has been an external speaker at the Graduate School of Public Policy (GraSPP) of The University of Tokyo (2017, 2018) and at the Graduate School of Advanced Integrated Studies in Human Survivability (GSAIS) of Kyoto University (2013).
Ms. Pagé holds a bachelor's degree in Industrial Relations from Laval University and a Master of Science in Organizational Development from Pepperdine University in California. She is currently completing a certificate in Governance at Laval University.
Ms Pagé is a Canadian national and the proud mother of a seven-year-old daughter.
MC
Tan Yong Beng, double degree student from the National University of Singapore.
Panelists
Millicent Faith Tomada, MPP/IP student at GraSPP
Bagas Adhika Putra, Master of Public Policy student at GraSPP
Language
English
Registration
Required through this link.