Message from the Dean
April 2018
Coming up now for almost 30 years from the end of the Cold War, it feels as if world history is once more entering a new phase. The signs include moves to halt and reverse the shifts toward globalization and regional integration, and great powers choosing to ignore international law and impose changes through the exercise of force. In Japan, we are being warned of disappearing regions, characterized by aging demographics and the concentration of population in Tokyo, while also confronting a need to respond to a worsening security environment. Meanwhile, all of this is being accompanied by rapid progress in communications technology and artificial intelligence that, along with making life more convenient, is also providing greater control over information. We face numerous challenges that we have never experienced before.
Since it was established in April 2004, GraSPP has strived to train policy professionals for work in diverse fields of public policy by delivering an academic education that balances law, political science, and economics together with practical lessons from teaching staff with past experience of working at international institutions or government agencies. I also believe that our role is continuing to expand in scope.
The aspect of GraSPP that predominates over all others is our active pursuit of internationalization. Our Master of Public Policy, International Program (MPP/IP) that allows students to study for a master's degree exclusively in English has also attracted a rising number of Japanese students since it was first offered in AY2010. Japanese and overseas student numbers are now roughly equal, with approximately 45% of teaching being in English. Our students have extensive opportunities for overseas study, with exchange programs in place with a total of 13 leading international universities, Columbia University, Paris Institute of Political Studies (Sciences Po), and London School of Economics (LSE) among them. At eight of these universities, these arrangements include a double degree program whereby students can gain degrees from both the University of Tokyo and the exchange university. Numerous other opportunities for gaining international experience are also available. One option that I would have liked to take advantage of myself were I still a student is the CAMPUS Asia program, which offers double degrees or joint courses with the School of International Studies at Peking University and the Graduate School of International Studies at Seoul National University.
Through these various programs, GraSPP currently has students from roughly 30 different countries. The majority of these are from Asia and come with experience of working in such places as central banks, ministries of finance or foreign affairs, or other government agencies, in journalism, in the legal profession, or in financial institutions. We provide overseas students with internship opportunities at English-speaking workplaces. With more than 1200 students from around 50 different countries having graduated from GraSPP to date, we intend to boost networking among our alumni further in the future.
We introduced a doctoral program in AY2016. With the knowledge and skills needed for the formulation, assessment, and implementation of public policy growing in sophistication and complexity, we are approaching a time when holding a doctorate will be a prerequisite for certain roles, particularly at international agencies and in international negotiations. Our aim is to foster the people who will take a leading role in public policy around the world in the areas of international finance and development and in international security, combining academic rigor and practical skills along with the ability to undertake advanced research in their area of expertise.
Another feature of GraSPP is that we have sought to coordinate leading-edge academic research with real-world activities, having acquired a variety of external funding. Research projects are currently ongoing in fields that include science, technology, and innovation; ocean policy; human resources policy; health policy; energy and the environment; and capital markets, with the outcomes of this work being widely deployed back into society. Moreover, as part of practical academic education that ties back to the real world, we have also been taking a leading role to run interdisciplinary programs that range across all areas of study. With labor shortages becoming a problem in Japan, we also introduced an executive program (one targeted at those in the workforce) for healthcare technology assessment in AY2017 that is aimed at establishing a systematic approach to cost-benefit analysis.
The completion in 2017 of our new International Academic Research Building has provided a much-improved research and teaching environment. I urge our students to make the most of the opportunities you have been granted to forge yourselves into leading public policy professionals. I would also like to thank everyone from across the board for the support and cooperation they have shown us.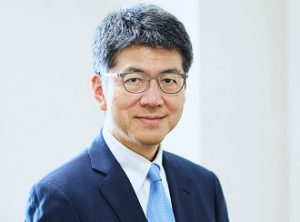 Akio Takahara
Dean, Graduate School of Public Policy, The University of Tokyo