Our report, titled "Covid-19 and Education on the Front Lines in Japan: What Caused Learning Disparities and How Did the Government and Schools Take Initiative?", reviews both the history of Japan's education system and the timeline of pandemic events in detail. In the wake of spreading infection and coordinated school closures, on March 31, 2020, the government announced that its Global and Innovation Gateway for All (GIGA) school initiative would be accelerated, aiming to distribute PC/tablet devices to all elementary and junior high school students by the end of March 2021 ahead of the previous 4-year deadline. Following a state of emergency that began rolling out in April 2020, the majority of schools in Japan underwent temporary closure for 2 months through May. After the declaration was fully lifted on May 25, many schools continued measures to reduce in-class hours. By shortening the summer break and holding alternative classes, most elementary, junior, and senior high schools were able to catch up by the start of the second semester in September, ending regularly in December.
The temporary closure revealed a huge disparity in schools' ability to implement online classes. We saw that most public elementary and junior high schools had no online education in place, causing a noticeable gap between public and private schools. According to surveys by the Ministry of Education, Culture, Sports, Science, and Technology (MEXT), implementation of online classes rose from 5% at the beginning of the closure to just 8% for elementary schools and 10% for junior high schools. This contrasted with levels for other school types, which were 17% for integrated compulsory education schools, 47% for senior high schools, and 70% for integrated secondary schools.
We identified how this gap related to the history and governance structure for each school type in Japan. Public elementary and junior high schools are primarily managed and funded by local municipalities. In contrast, so-called "secondary schools", which integrate junior and senior high school levels, are often founded by prefectural governments. As well as having access to greater funding, they compete with private schools promoting model initiatives such as the digitalization of education. Furthermore, "compulsory education schools", which integrate elementary and junior high school levels, are often established through mergers of existing schools. This too can lead to benefits such as the renewal of buildings and ICT environments.
We also highlight the role of family socioeconomic status. Secondary schools, unlike public junior high schools, require entrance exams. Selective schools like these attract households with higher socioeconomic backgrounds, which are able to provide better access to ICT devices and networks. Hence, together with private schools, they avoid the requirement to accommodate lower standards of ICT access present in public elementary and junior high schools.
Finally, we cite the disparity between prefectures was cited as a factor. Taxes from the central government which had been provided to help local governments digitalize education were not all spent in the same way. This was reflected in discrepancies in student access to online education, which was 10.2% on average but as high as 66.7% in Saga, where greater numbers of PCs per student were also recorded.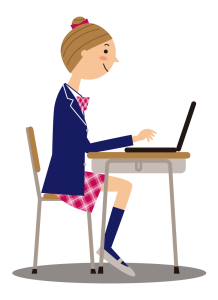 The GIGA initiative was the policy solution designed to bridge disparities that had been recognized prior to the pandemic. Accelerated during the crisis, it provided subsidies from the national government to allow local governments to allocate one device per elementary and junior high school student and lend mobile wi-fi routers to households without internet.
MEXT also devised and promptly implemented additional Covid-19 supportive policy measures regarding students facing economic hardships, assistance with children's learning, and disbursement of ICT devices and relevant services. In particular, Covid-19 impact studies revealed disadvantages for children in single-parent homes, of which 60.8% reported financial difficulties and 32% considered disenrolling children from high school.
In addition to hastened policy responses, the pandemic heralded changes to cultural approaches to education. Teaching as a profession in Japan was often stigmatized and avoided unfamiliar digital materials, with only 18% of junior high school teachers frequently using ICT in 2018. This rose to 36% during the temporary school closure and 58.9% after reopening. Together with diversification in teacher culture, we conclude that improved ICT environments allow students to receive more individualized attention, crucial in a country with high student class numbers. Furthermore, increased time spent by parents communicating with their children points to a positive influence on home learning.
The potential for reform extends to reconfiguring the place of education in Japanese society. Since the pandemic, teachers have heavily recognized the importance of schools to students' mental growth via mutual support among peers. The next step must now be to reimagine forms, scales, and ways of cooperation among schools and education systems. The success of one popular correspondence high school can be traced to innovation in blending practical field experiences with online education. This is an attribute encouraged by recent revisions to the National Curriculum Guidelines characterized by active and inquiry-based learning. MEXT has stated its goal as the transformation of education policy from formal egalitarianism to fair individual learning.
The policy envisages new networks of schools to shape the power dynamics of schools. The use of online education will allow high schools in remote areas highly impacted by Japan's declining birthrate to network across regions. By securing student and teacher numbers while offering a diverse range of programs, they could provide a valued counterpoint to the experiences available in urban areas.
The Covid-19 crisis has exposed gaps and vulnerabilities in online learning among schools in Japan, prompting swift policy measures by the government to accelerate the proliferation of ICT devices and access for students from all backgrounds. Far from freezing the progress of education, the investment of time into understanding the influence of governance structures and potential for innovating school networks will only secure the opportunities of students in the future.
(Editor: Clement Ng)