April 2020
Dean's Greetings to New Students
Congratulations on entering the Graduate School of Public Policy, The University of Tokyo.
I was looking forward to participating in the opening ceremony at the Hongo campus together with you and your families on April 1. To prevent spread of the COVID-19, however, the ceremony has unfortunately been cancelled, giving priority to protecting everyone's health. I wanted to congratulate all of you on your entrance to GraSPP just the same, so I am sending this message, albeit via our homepage.
Many people have died from the novel coronavirus in Japan and overseas. To begin with, I would like to express my condolences to their families, and also to express my sincere wishes for an early recovery to those who are undergoing medical treatment.
In normal years, we arrange opportunities for you to meet and come to know faculty members, and fellow students through our guidance and orientation programs before classes begin. These activities also had to be cancelled amid the spread of the virus. Classes are being conducted online in accordance with university policy. Across-the-board online education is new to our faculty as well, and many students and faculty may initially be inconvenienced. GraSPP faculty and staff will work together to arrange an environment where you can pursue your studies without concern, and we will provide student support. There may be some worries and difficulties, but I believe that together we will overcome these obstacles so that academic affairs can steadily advance, even under this adverse environment.
The Graduate School of Public Policy has prepared diverse opportunities for you who are starting your studies here to make great progress, after these difficulties are endured. The GraSPP offers you the opportunities for you to gain three key capabilities:
The first is an international perspective. As domestic and international trends become increasingly uncertain, it is necessary to consider the international impacts of all policy measures. To those ends, a multifaceted grasp and understanding of different cultures and societies is essential. This is also the ability to transcend stereotypical cultural perceptions that have become conventional wisdom. GraSPP presents many classes in English, and provides a learning environment where you will be studying together in the same classroom with other future global leaders.
The second is communication skills. Policy making requires consultations with stakeholders, consensus building, and the incorporation of diverse requests, as well as the work of gaining support for the policy. This must be backed by the high-level communications skills of persuasively conveying one's idea to others and of listening to and understanding others' opinions. These others are not limited to people in Japan. In a globalized society, the ability to debate and negotiate in English is indispensable. At GraSPP, we foster high-level communications skills via interactive classes conducted in English.
Third is the ability to break down and analyze policies. Policy formation and assessment must be scientific and evidence-based, and evidence should be created when necessary. Realizing such capabilities requires gaining a solid foundation in political science, public administration, economics and other academic fields, as well as the skill to apply that foundation to real-world problems.
The educational objective of this graduate school is to develop professionals who can manifest these abilities required for policy making backed by a high sense of ethics. Today, such personnel are sought not only in the public policy field but also as top management at private sectors as well
While classes are being initiated under a different format than usual because of COVID-19, I look forward to all of you making full use of the resources GraSPP provides making great progress toward achieving your life dreams over the next two years.
Congratulations, once again, on entering the Graduate School of Public Policy, The University of Tokyo.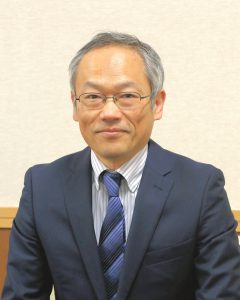 Hiroshi Ohashi, Dean
Graduate School of Public Policy, the University of Tokyo