Dean's greetings to new students in Autumn 2022
Welcome to GraSPP. Also, let me express my heartfelt congratulations on being admitted to GraSPP. Despite the pandemic, our admission process was very competitive, and it was not easy to get in. You should be proud of yourself for being selected. On behalf of our faculty and staff, I would like to extend my warmest possible welcome to all of you.
Many students from a diverse set of countries are about to join GraSPP. Forty-nine students are entering the MPP/IP program this year, and twelve double-degree students from our partner schools join us. Also, ten students come here for various exchange programs. Furthermore, four students are joining the Doctoral program in various capacities. In total, we have seventy-five new students and they represent twenty-nine countries, including our neighboring countries like China and Korea and some far-flung places such as Namibia.
Over the past two years, Japan, like many other countries, has been suffering from the COVID pandemic. Many of our courses have been offered online, and a number of our students, even after being admitted to GraSPP, chose to stay in their own countries and took online courses.
Now the Japanese government has started relaxing its entry restrictions, and we hope that this will be a year of recovery for us in two senses: physically and psychologically. Physically because our students can now freely enter and leave the country, our international program will be back to normal. Psychologically, because you will be able to make new friends more easily, a sense of community will be restored.
I regret to say that sentiment as a community was lost at GraSPP during the past two years. We learned that it is very hard to make new friends if one is taking only online courses. Breakout rooms are sufficient for educational purposes, but they are no substitutes for in-person meetings. Bit by bit, we shall try to organize various in-person events which were normal before the pandemic with due precautions about the spread of COVID-19.
Our faculty members are more than happy to help you out in the transition into this new environment. We'll look forward to seeing you in class.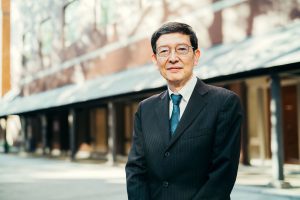 September 28, 2022
Keisuke Iida, Dean
Graduate School of Public Policy, the University of Tokyo