First of all, on behalf of the Graduate School of Public Policy, I would like to congratulate you on your enrollment.
There are 90 students enrolling this month. Out of these, 76 are in the professional degree program (including 6 double-degree students), six are in the doctoral program, seven are exchange students, and one is an international research student.
You have enrolled in a very lucky year. For the past three years, the Graduate School of Public Policy has lost its original form. This year, however, things are expected to return to normal.
First, classes have been online for a large part of the year. The university as a whole had gradually restored face-to-face classes since the second year of the Corona Disaster, but the School of Public Policy has a large number of international students and there were quite a few students who could not even enter the country, so online classes lasted longer than in other departments.
In addition, all meetings that tended to require close contact were prohibited in principle. Of course, we were not able to control all meetings held by students alone, but we were not able to have meetings with faculty members.
The Graduate School of Public Policy used to hold quite a few international symposia and other seminars, but most of the events outside of classes had been suspended. I think we will be able to restore these events little by little from now on.
In any case, I think that the Graduate School of Public Policy will become a meeting place like it used to be, although it had become something unappealing during the pandemic.
Once again, congratulations on your enrollment.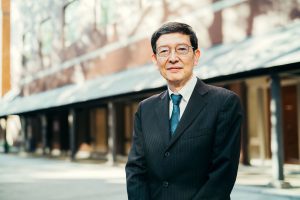 Keisuke Iida, Dean
Graduate School of Public Policy, the University of Tokyo