Summary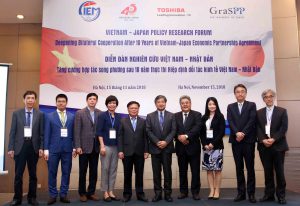 On November 15, 2018 in Hanoi, GraSPP hosted Vietnam–Japan Policy Research Forum titled "Deepening Bilateral Cooperation after 10 Years of Vietnam-Japan Economic Partnership Agreement" with Central Institute for Economic Management (CIEM) under the Ministry of Planning and Investment (MPI). Toshiba International Foundation (TIFO) provided CIEM with grant funding. GraSPP has been co-hosting conferences with CIEM every year since 2015.
The Forum had three sessions ("Current state and issues of Japan-Vietnam trade relations since 2008"; "Vietnam-Japan Economic Partnership Agreement from political economy perspectives"; and "Efforts to foster Japan-Vietnam investment cooperation since 2008") followed by a panel discussion "Supporting initiatives and measures to deepen Japan-Vietnam trade and investment relations".
The speakers and discussants are: (from left to right) Dr. VO Tri Thanh, Senior Expert, CIEM; Mr. NGUYEN Anh Duong, Director, Department for Macroeconomic Policy and Integration Studies, CIEM; Assoc. Prof. Dr. NGUYEN Chien Thang, Vice President, Vietnam Institute of Economics; Dr. NGUYEN Thi Thu Trang, Director, WTO Center, Vietnam Chamber of Commerce and Industry (VCCI); Dr. NGUYEN Dinh Cung, President, CIEM; Prof. Toshiro NISHIZAWA, GraSPP; Mr. Kazuo KUSAKABE, Chief Representative, Vietnam Representative Office, Toshiba Asia Pacific PTE LTD; Prof. Mie OBA, Department of Science and Engineering, Tokyo University of Science; Mr. Hironobu KITAGAWA, Chief Representative, Japan External Trade Organization (JETRO) Hanoi Office; and Mr. Yasunori ONISHI, Aid Coordination Advisor, Japan International Cooperation Agency (JICA) Vietnam Office.