GraSPP Research Seminar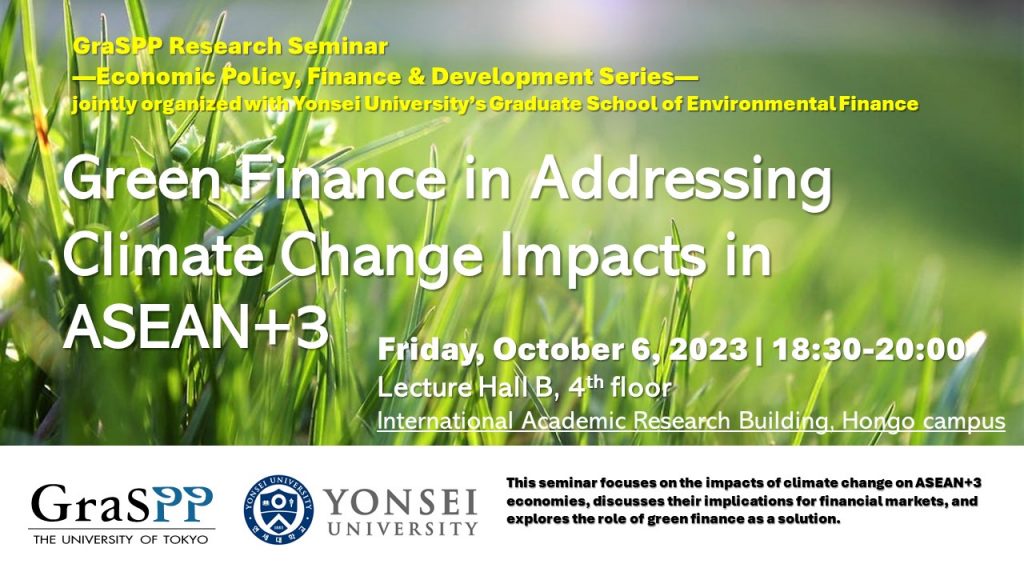 GraSPP Research Seminar—Economic Policy, Finance & Development Series―

Green Finance in Addressing Climate Change Impacts in ASEAN+3
Date & time    
Friday, October 6, 2023 | 18:30-20:00
Venue
Lecture Hall B, 4th floor, International Academic Research Building, Hongo campus
Language  
English
Registration
This is an in-person seminar open to the public. Please register here.
Abstract
Climate change is a global challenge that is overwhelming the capacity of Planet Earth and its ecosystems. The resulting adverse consequences threaten people's livelihoods and well-being. Therefore, it is our urgent task to address these challenges to humanity. Failure to do so may lead to worldwide societal collapse or even eventual human extinction before the end of the 21st century.
This seminar focuses on the impacts of climate change on ASEAN+3 economies, discusses their implications for financial markets, and explores the role of green finance as a solution.
Yonsei University's Graduate School of Environmental Finance has been working with the ASEAN+3 Macroeconomic Research Office (AMRO) on climate change risks in the context of ASEAN+3 Climate Initiatives.
Program
Introduction by Prof. Toshiro Nishizawa
Session 1    Economic impacts of climate change and the implications for financial markets by Prof. Seong-Hoon Kim, Yonsei University
Introduction to the climate change index

Macroeconomic impacts of climate change on ASEAN+3 economies

Implications for financial markets and investment decisions
Session 2    Green finance as a solution by Prof. Suk Hyun, Yonsei University
Introduction to green finance: concepts and definitions

How green finance can mitigate the climate change impacts

Green bonds and sustainable investments
Session 3    Panel discussion moderated by Prof. Toshiro Nishizawa
How to adapt financial strategies to climate realities

Potential and challenges of green finance
-Discussants
Prof. Chung Sik Yoo, Yonsei University
Ms. Mami Negishi, Daiwa Securities Co. Ltd.
Prof. Seong-Hoon Kim
Prof. Suk Hyun, Yonsei University
About the speakers and discussants
Professor Chung Sik Yoo is an accomplished academic and thought leader. He has dedicated over three decades to economic development, energy and environment, and neoclassical political economy. Earning his BA and MA from Yonsei University, he further honed his skills with an MA and PhD from U.C. Berkeley. Since 1992, he has been a faculty member of the Department of Economics at Yonsei University's Future Campus. His commitment to Yonsei University extended into administrative roles from 2010 to 2012, where he served as the head of the Academic Information Office and as the dean of the College and Graduate School of Political Science and Economics. Since 2019, he has been the principal professor for the Yonsei-KOICA Long-Term Master's Program. He has also been an editorial board member for prestigious journals like the Korean Economic Review and held vice-presidential roles in various economic and regional studies associations in Korea.
Ms. Mami Negishi joined Daiwa Securities in 2004, specializing in the bond market, with 14 years of experience in bond trading and the Debt Capital Market Department. She has been engaged in advisory services for bond issuances by various issuers, including local governments and corporations. With extensive overseas experience, working in IB operations in Singapore and Vietnam, she has been Managing Director of the Sustainability Solutions Department since April 2023. Ms. Negishi holds a master's degree in International Public Policy from Osaka University.
Professor Seong-Hoon Kim is a Research Professor at the Graduate School of Environmental Finance at Yonsei University–Mirae, Korea. He earned his PhD in Economics from Birkbeck College, University of London, in 2013. His research focuses on the causes of business cycles and their transmission mechanisms, with the principal emphasis on the roles of misperception and mispricing. His recent research includes the economic impacts of climate change and how people's misperceptions and mispricing of carbon amplify the impacts.
Professor Suk Hyun is the head professor of the Graduate School of Environmental Finance at Yonsei University. Before joining East Asia International College (EIC) at Yonsei University in 2018, he was a visiting scholar at the University of Southern California Department of Economics and a research fellow at the Korea Capital Market Institute (KCMI). He worked as an economist at the Bank of Korea from 2009-2010 and spent three years from 2006-2009 in Japan as a bond market specialist at Japan Bank for International Cooperation (JBIC). His expertise lies in international finance, the bond market, and the Japanese economy, with recent research covering infrastructure bonds, green bonds, capital market development, and financial integration in Asia. He has a bachelor's degree in economics from Yonsei University and earned his master's degree and PhD in economics from Keio University.
Professor Toshiro Nishizawa has been a full-time faculty member of The University of Tokyo's Graduate School of Public Policy (GraSPP) since July 2013 after serving at the Japan Bank for International Cooperation (JBIC). Early in his career, he spent years working at Japan's EXIM Bank, the Ministry of Foreign Affairs, the IMF, and the World Bank. Prof. Nishizawa has been actively engaged in policy dialogue and research activities with his interests in Asian economies, financing for development, Public-Private Partnerships (PPPs), and sovereign debt. He holds a BA in Latin American studies from the Tokyo University of Foreign Studies (1982), a BA in economics from the University of Tokyo (1984), and an MSc in economics from the University of Wisconsin-Madison (1988).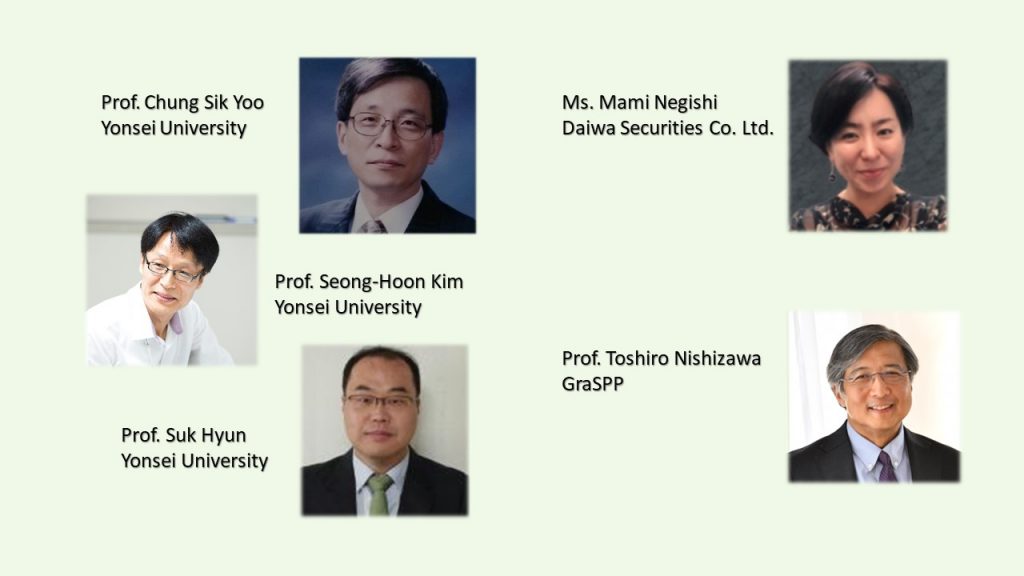 For inquiry
Professor Toshiro Nishizawa | tnishizawa<at>pp.u-tokyo.ac.jp
Please replace <at> with @.