Ocean Alliance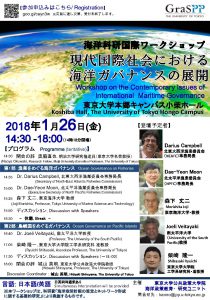 Date:Friday, January 26, 2018, 14:30~18:00(Doors open at 14:10)
Venue:Koshiba Hall, The University of Tokyo Hongo Campus (Map)

Hosted by:Ocean Policy Unit, GraSPP, The University of Tokyo
Advance registration is now open.  Register here.
Language: Japanese / English, Simultaneous Interpretation will be provided 
◆Abstract:
The workshop will deal with contemporary issues in ocean governance, focusing on the limitations of the traditional zonal and sectoral approaches. We plan to discuss the issues mainly from the viewpoint of how fisheries could be situated within the overall framework for ocean governance. 
◆Programme (tentative)
14:30    Opening remarks, Hideaki Shiroyama, Professor, The University of Tokyo

Session 1 : Ocean Governance on Fisheries
14:35   Dr. Darius Campbell, Secretary of North-East Atlantic Fisheries Commission
"NEAFC and the International Legal Framework for Ocean Governance"
15:00    Dr. Dae-Yeon Moon, Executive Secretary of North Pacific Fisheries Commission
"NPFC to Bridge the Gap in the Management of Fisheries Resources in the North Pacific"
15:25    Joji Morishita, Professor, Tokyo University of Marine Science and Technology
"Maritime Boundaries and International Fisheries Management Regime"
15:50    Discussion with Speakers
16:30    – Break – 
Session 2 : Ocean Governance on Pacific Islands
16:40    Dr. Joeli Veitayaki, Professor, The University of the South Pacific
17:05    Ryuichi Shibasaki, Associate Professor, The University of Tokyo
17:30    Discussion with Speakers  
18:00    Closing 

Discussion Coordinater:Hideaki Shiroyama, The University of Tokyo

Contact & Inquiries:
Kanno (Mr.), GraSPP, The University of Tokyo
kanno@pp.u-tokyo.ac.jp