GraSPP Research Seminar
Report
On October 23, 2018, GraSPP was delighted to host a seminar on Britain, Japan and the future of Asia-Pacific security with Dr. David Ellis, Minister and Deputy Head of Mission of the British Embassy to Japan, and Mr. James Hardy, Senior Research Analyst for Japan and East Asia at the British Foreign and Commonwealth Office. The seminar, organized in collaboration with the Security Studies Unit of the Policy Alternatives Research Institute, was chaired by Professor Yee-Kuan Heng and moderated by Professor Chiyuki Aoi.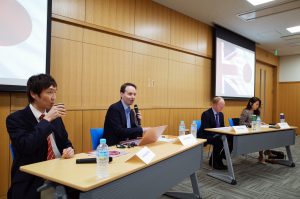 Dr. Ellis discussed in detail how history and geography have shaped Japanese security choices similarly to those of the UK. Both countries, as isles and developed liberal democracies, share an interest in upholding the rules-based international order and counter those who challenge it. North Korea, for instance, poses a severe challenge to international norms with its contravention of the Treaty on the Non-Proliferation of Nuclear Weapons and development of ICBM capabilities. Dr. Ellis affirmed that for the UK, like for Japan, there must be complete, verifiable, and irreversible denuclearization of the Korean peninsula. He also suggested that the UK, given its expertise on nuclear weaponry, could play an important role when DPRK decided to denuclearize.
Dr. Ellis also presented other challenges faced by Japan and the UK in the region. For instance, he pointed out at the rapid development of Chinese defense capabilities, particularly those in the areas of hypersonic ballistic missiles and antisatellite missiles technologies. These bleeding-edge technologies, mixed with a stronger military relationship between China and Russia, could challenge the regional balance of power and pose a risk to regional security. For this reasons, Dr. Ellis hopes that the UK will cement stronger ties with Japan. In this direction, he welcomed the recent intergovernmental meetings, the annual strategic dialogue meetings, the joint thematic dialogues, and the increasing collaboration in the defense sector. He also remarked that with the 'Exercise Vigilant Isles,' the UK has been the first country, besides the US, to hold joint exercises with the Self Defense Forces on Japanese soil.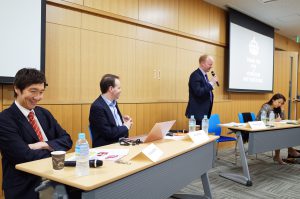 Mr. Hardy followed up Dr. Ellis and explained how the UK and Japan partnership will play an increasingly relevant role in the future. He argued that we live in a period of 'hot peace' where national interest and geopolitics are making a comeback. This is reflected, in his opinion, by China's assertive foreign policy. Mr. Hardy argued that since 2008 China had proven that it is willing to use its economic power as an instrument of statecraft and its navy as a tool of power projection. In this scenario, the UK, like Japan, is interested in upholding maritime rule of law. At the same time, the UK is also committed to the Indo-Pacific region due its historical legacy and commitment to the Five Powers Defence Agreement and Brunei. Looking forward, Mr. Hardy sees the UK playing a key role in Asia-Pacific security via minilateral arrangements and a consolidation of its partnership with Japan.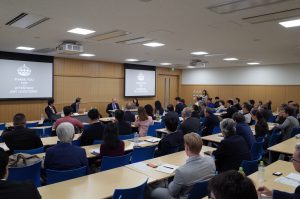 ———-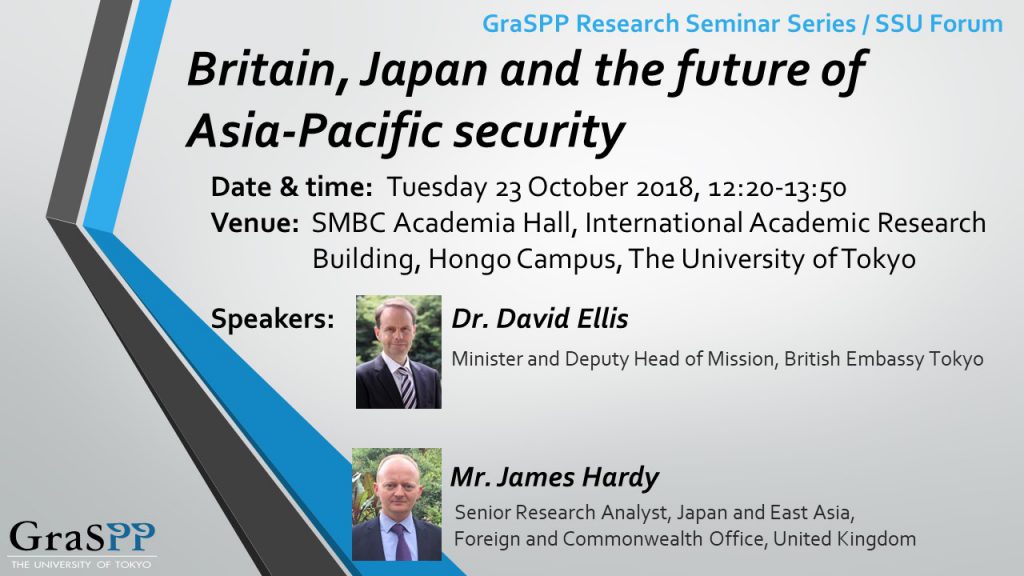 Date: Tuesday, 23 October 2018
Time: 12:20-13:50
Speakers: Dr. David Ellis, Minister and Deputy Head of Mission, British Embassy Tokyo
Mr. James Hardy, Senior Research Analyst, Japan and East Asia, Foreign and Commonwealth Office, United Kingdom
Venue: SMBC Academia Hall, 4F, International Academic Research Building, University of Tokyo (map)
Capacity: 80 person
Registration: Needed. Please register from here. 
Abstract:
The Asia-Pacific region is increasingly viewed by the West as the next inevitable power-house, both in terms of military/security issues and economic prosperity. This seminar provides perspectives on current and emerging trends in UK-Japan relations and how the two countries view the future of Asia-Pacific security. The view of a practitioner at the British Embassy Tokyo is presented in combination with a macro-level analysis of regional trends from a UK perspective at the Foreign and Commonwealth Office in London.

Biography:
Dr Ellis took on the role of Minister and Deputy Head of Mission on 1 August 2016. He is responsible for advancing UK-Japan relations on political and security issues. He also oversees the consular and visa operations as well the Embassy's corporate operations.
2011 – 2015 Minister-Counsellor (Political), British Embassy Beijing. Responsibilities included leading political teams covering Chinese domestic politics, human rights, and foreign and security policy.
(For more information, please check his biography page)
Mr. James Hardy is the UK Foreign and Commonwealth Office's senior research analyst on Japan and east Asian security affairs. Mr. Hardy focuses on regional security issues and arrangements, alliance networks, and military capabilities; he is also particularly interested in Japan's evolving security and defence policies and its domestic political arrangements. Before joining the FCO, he worked as Asia-Pacific Editor for Jane's Defence Weekly, and was a staff writer for The Yomiuri Shimbun in Tokyo.
Inquiries to: graspp_eventinfo[at]pp.u-tokyo.ac.jp