STIG
,
PadIT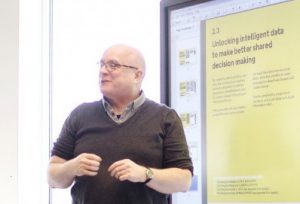 Registration is now closed as we have reached our full capacity for the seminar.

13th "Virtual Government" Seminar: Digital Services in Government ~ Lessons learned from GDS & DfE in the British Government ~
Date and time: 14:00 – 17:00, Monday, December 4, 2017,
Place: Fukutake Learning Theater,  Fukutake Hall  <map>
Sponsor:
PadIT (Information and Communication Technology and Government) Research Project, Graduate School of Public Policy, the University of Tokyo
The Institute of Administrative Information Systems (IAIS) 
Co-sponsor:
STIG (Science, Technology, and Innovation Governance) Education and Research Program, Graduate School of Public Policy, the University of Tokyo 
Please register for the participation from here. 
Along with the rapid progress of the digital age, the delivery of public services is about to change drastically. This means doing service reforms of contacts and interactions with the public, as well as handling internal reform of business. For this purpose, complete digitization of data, sharing and user-centered system design are indispensable, and a new idea is required also in the way of work in the digital age. In order to tackle this, the UK Government has made its policy of reform in 2010, and has steadily implemented its policy from 2011 and has achieved good results. Now, Britain is ranked first in the U.N. e-Government survey ranking in 2016.
In this seminar, we invited Mr. O'Neill, Chief Digital Officer of UK Government Department for Education, who joined GDS in the UK government in 2011. We will focus on "the history, lessons learned and future of digital services".
Program:
14:00-14:10         Opening Remarks
                            Toshiaki Iizuka Dean, the Graduate School of Public Policy, the University of Tokyo
                            Junichi Tanaka President, the Institute of Administrative Information Systems (IAIS) 
14:10-14:25         Introduction "Prospects for Digital Services in Government"
                            Hirokazu Okumura Visiting Professor, Graduate School of Public Policy, the University of Tokyo
14:25-15:25         Keynote Speech "The UK Government's Digital Services History, Lessons learned and Future"
                            Mark O'Neill, UK Department of Education Chief Digital Officer,
                            Former GDS Head of innovation & Delivery
15:25-15: 40         Break
15:40-17:00         Panel Discussion
Panelist               Mark O'Neill
                            Kenji Hiramoto Government CIO Senior Assistant Officer
                            Toshiyuki Zanma Government CIO Senior Assistant Officer
                            Hirokazu Okumura
Moderator           Shiroyama Hideaki, Professor, Graduate School of Public Policy,
                            Graduate Schools for Law and Politics, the University of Tokyo
17:00                   Closing