GraSPP Research Seminar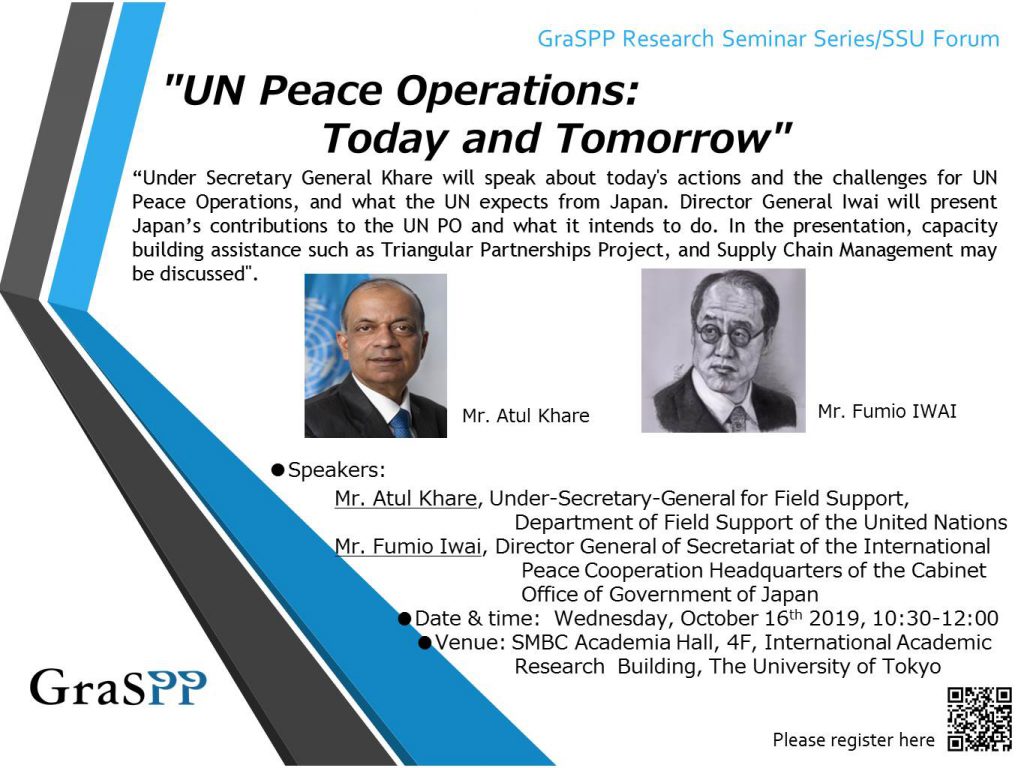 Speaker:  
Mr. Atul Khare, Under-Secretary-General of the UN Department of Operational Support
Mr. Fumio Iwai, Director-General of the International Peace Cooperation Headquarters, Cabinet Office, Government of Japan
Moderator: Kiichi FUJIWARA, Professor, Graduate Schools of Law and Politics, The University of Tokyo
Date: October 16, 2019
Time: 10:30−12:00
Venue: SMBC Academia Hall, 4F, International Academic Research  Building, The University of Tokyo
(map:http://www.pp.u-tokyo.ac.jp/en/campus-map/)
Registration: Needed. Please register from the link below. 
https://ifi.u-tokyo.ac.jp/event_form/4758/
Co-hosted by: Security Studies Unit, Institute for Future Initiatives, The University of Tokyo
Language: English
Abstract:
There are 50 conflict zones around the world today, and the characteristics of violent conflicts has shifted from international conflicts to the conflicts between non-state and cross-border actors. Consequently, the United Nations is required to operate in increasingly complex situations.
In this seminar, inviting Under-Secretary-General Atul Khare and Director-General Fumio Iwai, we will study the present state and the prospect of United Nations peace operations so as to consider how we may contribute to the lasting peace of the world through United Nations peace operations. 
Drawing on the perspectives of the organizations they represent, the two guests will shed the lights on the operational challenges of United Nations POs, operational reforms, the triangular capacity building projects, gender parity, and other actions that the UN and Japan are taking.
Speaker's biography:
Mr. Atul Khare has been Under-Secretary-General for Field Support, Department of Field Support of the United Nations since 2015. In prior to his current appointment in New York, Mr. Khare was Assistant Secretary-General leading the Change Management Team, and Assistant Secretary-General for Peacekeeping Operations and Deputy Head of the Department of Peacekeeping Operations. He had also served as Special Representative of the Secretary-General for Timor-Leste and Head of the United Nations Integrated Mission in Timor-Leste (UNMIT), Chief of Staff and Deputy Special Representative of the Secretary-General with the United Nations Mission of Support in East Timor (UMISET). Before joining the United Nations, he has served in various countries with the Indian Foreign Service. Born in India in 1959, he is married.
Mr. Fumio Iwai has been Director General of Secretariat of the International Peace Cooperation Headquarters of the Cabinet Office of Government of Japan since 2018. In prior to his current position in Tokyo, he was Ambassador Extraordinary and Plenipotentiary in Iraq. He has served for 34 years in foreign service, holding positions such as Deputy Director-General of Middle Eastern and African Affairs Bureau of the Ministry of Foreign Affairs, Deputy Consul-General of Japan in New York, and Minister and Deputy Chief of Mission of Embassy in Saudi Arabia. He studied law at Kyoto University. Born in 1960, he is married.