GraSPP Research Seminar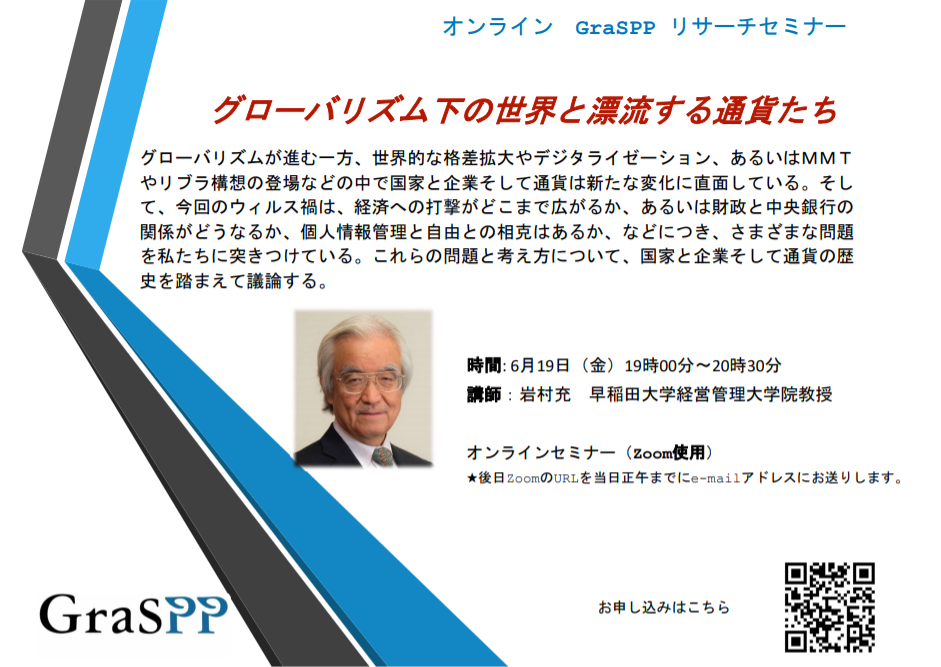 オンラインGraSPPリサーチセミナー(Zoom使用)
 タイトル : グローバリズム下の世界と漂流する通貨たち
 講師:岩村充 早稲田大学経営管理大学院教授
 日時:2020年6月19日(金)19:00-20:30 
 使用言語:日本語(同時通訳なし)
 参加対象者:学内、一般
 ★詳細、お申し込みは以下のリンクからお願い致します。後日ZoomのURLを当日正午までにe-mailアドレスにお送りします。
https://ppforum.jp/?action_entry=true&forum_id=541
 ★このオンラインセミナーは、一部編集の上、録画映像が事後配信される可能性がありますのでご了承の上、ご参加下さい。
【概要】 
グローバリズムが進む一方、世界的な格差拡大やデジタライゼーション、あるいはMMTやリブラ構想の登場などの中で国家と企業そして通貨は新たな変化に直面している。そして、今回のウィルス禍は、経済への打撃がどこまで広がるか、あるいは財政と中央銀行の関係がどうなるか、個人情報管理と自由との相克はあるか、などにつき、さまざまな問題を私たちに突きつけている。これらの問題と考え方について、国家と企業そして通貨の歴史を踏まえて議論する。
【講師略歴】
岩村充 早稲田大学経営管理大学院教授、博士(早稲田大学)。1974 年東京大学経済学部卒業。日本銀行に入行し、主として金融制度全般の企画調整を担当。ニューヨーク駐在員、金融研究所などを経て、1998 年から早稲田大学教授。
【主な研究業績・著書】
『国家・企業・通貨』新潮選書(2020年)
『金融政策に未来はあるか』岩波新書(2018年)
『中央銀行が終わる日』新潮選書(2016年)
『貨幣進化論』新潮選書(2010年)
Iwamura, M., Kitamura, Y., Matsumoto, T., & Saito, K. (2019). Can We Stabilize the Price of a Cryptocurrency?: Understanding the Design of Bitcoin and Its Potential to Compete with Central Bank Money. Hitotsubashi Journal of Economics, 60(1), 41-60.
Saito, K., & Iwamura, M. (2019). How to make a digital currency on a blockchain stable. Future Generation Computer Systems, 100, 58-69.
『新しい物価理論』岩波書店(渡辺努・岩村充、2004年)/ 'New Price Theory' IwanamiShoten (WATANABE Tsutomu and IWAMURA Mitsuru, 2004).
その他多数/many others
★今回のオンラインGraSPPリサーチセミナーは、寄付講座「資本市場と公共政策」(みずほ証券寄付講座)との共催になります。