GPPN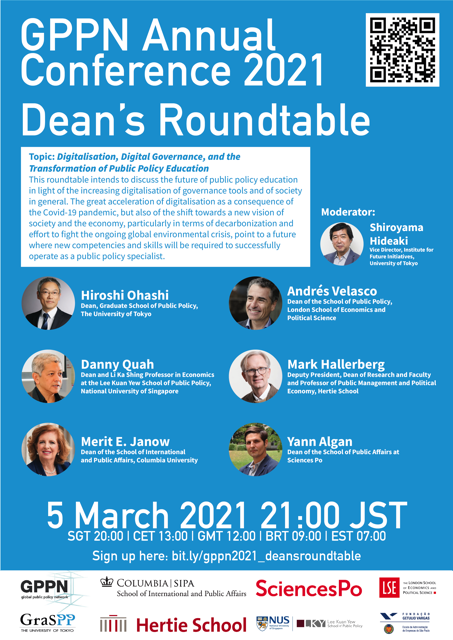 This roundtable intends to discuss the future of public policy education in light of the increasing digitalisation of governance tools and of society in general. The great acceleration of digitalisation as a consequence of the Covid-19 pandemic, but also of the shift towards a new vision of society and the economy, particularly in terms of decarbonization and effort to fight the ongoing global environmental crisis, point to a future where new competencies and skills will be required to successfully operate as a public policy specialist.
Date and Time: Friday, 5 March, 21:00-22:00 (JST)
*

This webinar is limited to the authorized personnel from the GPPN member schools.
Panelists:
Hiroshi Ohashi


Dean of the Graduate School of Public Policy, The University of Tokyo

Merit Janow


Dean of the School of International and Public Affairs, Columbia University

Mark Hallerberg


Deputy President, Dean of Research and Faculty and Professor of Public Management and Political Economy, Hertie School

Danny Quah


Dean and Li Ka Shing Professor in Economics at the Lee Kuan Yew School of Public Policy, National University of Singapore

Andrés Velasco


Dean of the School of Public Policy, London School of Economics and Political Science

Yann Algan


Dean of the School of Public Affairs at Sciences Po