Guest Speaker Seminar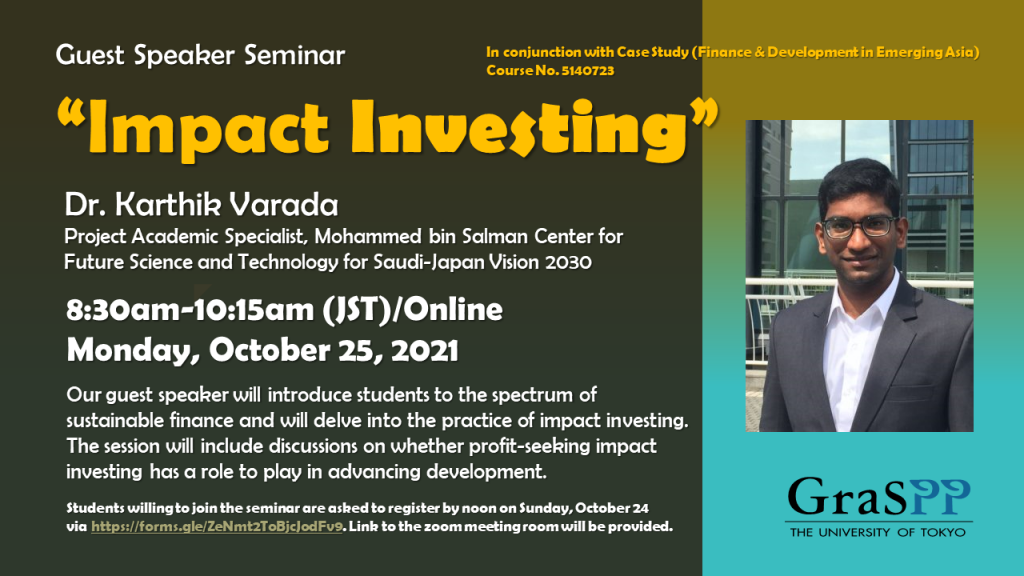 Guest Speaker Seminar—Online
in conjunction with Case Study (Finance & Development in Emerging Asia)
Course No. 5140723
Impact Investing—"Is it possible to do well by doing good?"
Speaker: Dr. Karthik Varada
Project Academic Specialist, Mohammed bin Salman Center for Future Science and Technology for Saudi-Japan Vision 2030
8:30-10:15 (JST) on Monday, October 25, 2021
Our guest speaker will introduce UTokyo students to the spectrum of sustainable finance and will delve into the practice of impact investing. The session will include discussions on whether profit-seeking impact investing has a role to play in advancing development.
Students willing to join the seminar are asked to register by noon on Sunday, October 24 via https://forms.gle/ZeNmt2ToBjcJodFv9. Link to the zoom meeting room will be provided.
About the speaker:
Dr. Karthik Varada, Project Academic Specialist, Mohammed bin Salman Center for Future Science and Technology for Saudi- Japan Vision 2030
Karthik Varada holds a Ph.D. from the University of Tokyo's Graduate School of Engineering, where he researched the process and performance attributes of ESG investments targeting gender diversity. He is currently a Project Academic Specialist at the University of Tokyo. Karthik has experience working with venture capital and impact investing firms and helped startups with social impact assessment. Until 2020, he worked as Project Coordinator at the Sasakawa Peace Foundation. Karthik was among the founding members of Asia Women Impact Fund, an impact investment fund committed to advancing gender equality in Asia. He holds a master's degree from the University of Tokyo where he developed a mathematical model to explain Social Impact Bonds. He received a bachelor's in engineering from Indian Institute of Technology, Hyderabad.