Guest Speaker Seminar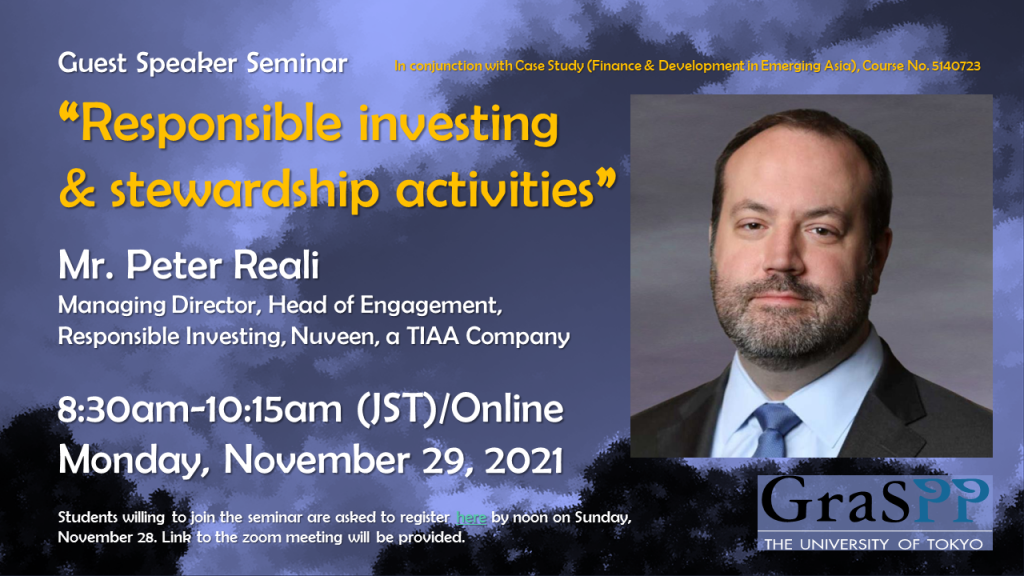 Guest Speaker Seminar—Online "
Responsible investing and
stewardship activities
"
In conjunction with Case Study (Finance & Development in Emerging Asia), Course No. 5140723
Speaker: Mr. Peter Reali, Managing Director, Head of Engagement, Responsible Investing, Nuveen, a TIAA Company
Date & time: 8:30am-10:15am (JST) on Monday, November 29, 2021
Students willing to join the seminar are asked to register here by noon on Sunday, November 28. Link to the zoom meeting will be provided.
About the speaker: Mr. Peter Reali is a managing director and member of the responsible investing (RI) team at Nuveen, the investment management arm of TIAA. Peter's responsibilities include leading Nuveen's stewardship activities to influence companies, issuers and the broader market to advance ESG best practices. He is a member of the Principles for Responsible Investing (PRI) Stewardship Advisory Committee. Prior to joining Nuveen, Peter led the corporate governance and proxy voting function at Lord, Abbett & Co and was on the corporate governance team at T. Rowe Price. From 2005-2013, he was the lead corporate governance analyst at TIAA-CREF. He holds a BS in Business Administration from Fordham University.
About Nuveen: Nuveen is the investment management arm of TIAA (Teachers Insurance and Annuity Association of America), and one of the world's largest asset managers, serving institutions, financial intermediaries and individual investors in more than 30 countries. It manages nearly $1 trillion in a wide range of asset classes.