Guest Speaker Seminar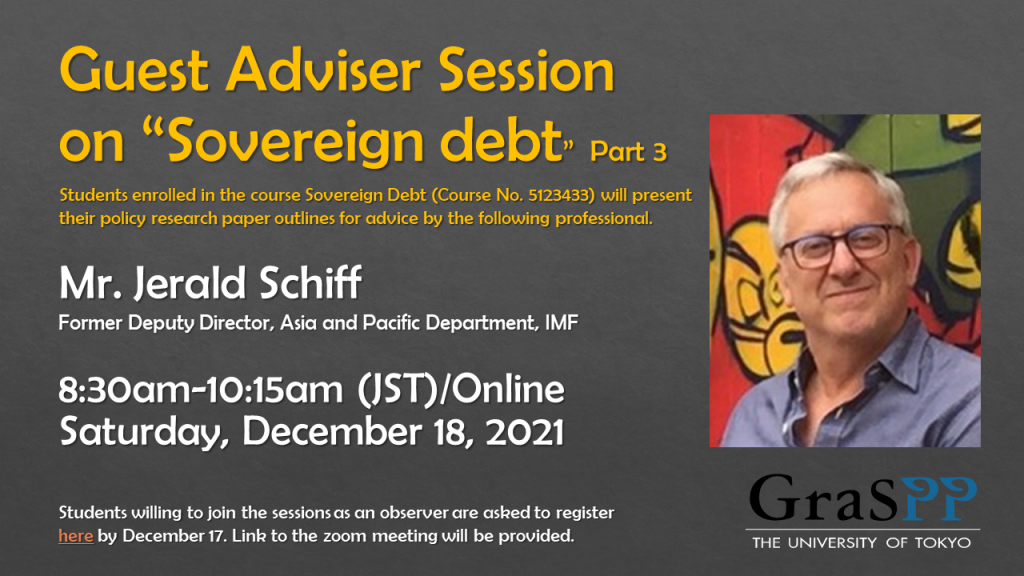 Guest Adviser Session on "Sovereign debt" Part 3
Students enrolled in the course Sovereign Debt (Course No. 5123433) will present their policy research paper outlines for advice by the following professional.
Adviser: Mr. Jerald Schiff, former Deputy Director, IMF's Asia and Pacific Department
Date & time: 8:30am-10:15am (JST) on Saturday, December 18, 2021
Students willing to join the sessions as an observer are asked to register here by December 17. Link to the zoom meeting will be provided.
About the adviser: Mr. Jerald Schiff, former Deputy Director, IMF's Asia and Pacific Department
Jerry Schiff retired from the International Monetary Fund (IMF) in 2015, after 25 years there. At the IMF, he held a number of positions, most notably as Deputy Director of the Asia and Pacific Department and as Senior Advisor in the Office of the Managing Director. In the former, he helped develop IMF policy toward the Asia region and also served as the head of teams for Japan, Korea, India, Singapore, and Myanmar. In the latter position, he helped the IMF's management oversee its overall agenda and management of the 2008-10 global finial crisis. As part of this effort, he took part in a number of international meetings, including the G-20 and G-7.
Since that time, he has been involved in education and training in a number of settings. He has taught both graduate and undergraduate courses at American University School of International Service and the George Washington University Elliott School of International Affairs. These courses have included International Financial Relations, International Trade Relations, and Economic Crises and Rescues. He has also had a recurring visiting position at the University of Tokyo's Graduate School of Public Policy, where he has taught a course on Macroeconomic Policy for Practitioners, building on his experience at the IMF. He has also provided training in macroeconomic and financial policy-making to a wide range of public officials in Asian and Europe as a consultant to the IMF Institute.
Prior to joining the IMF, Mr. Schiff spent four years as Assistant Professor of Economics at Tulane University, and one year as a visiting scholar at The United States Treasury.
He received his Ph.D. in Economics from the University of Wisconsin-Madison in 1984 and his B.S. in Economics from Cornell University in 1979.
His current academic interests lie in preventing and mitigating economic crises, and the economies of Japan and Asia more broadly.