Public Policy Talk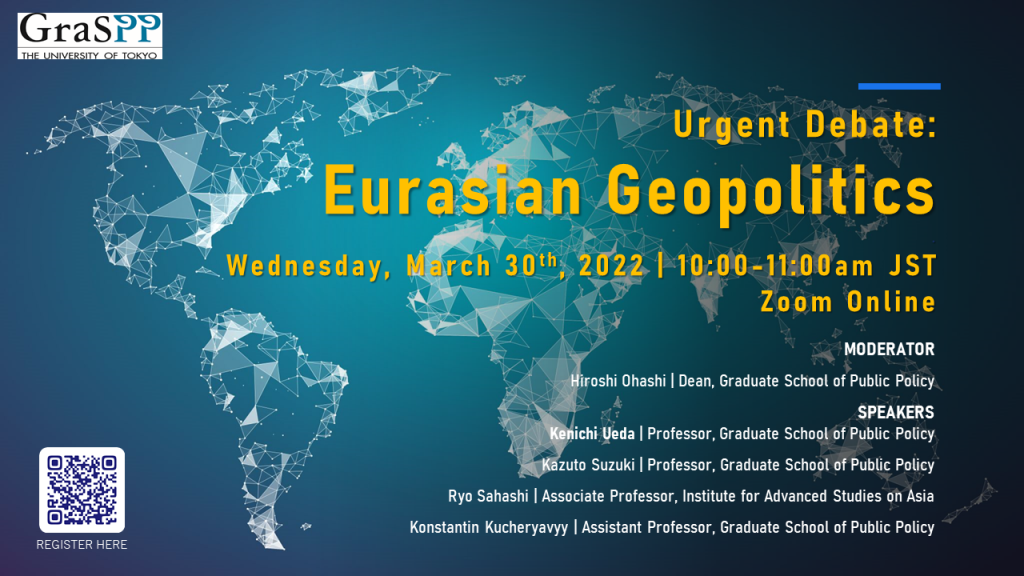 Russia's invasion of Ukraine is an event that has greatly shaken the international order since World War II. GraSPP will host a debate among faculty members in international politics and international economics on how to view these changes.
Date and Time
Wednesday, March 30th, 2022 | 10:00-11:00am JST​
Place
Zoom Online
Registration
Needed. Please register here.
Language
English
(English-Japanese simultaneous interpretation will be provided during the seminar)
Moderator
Hiroshi Ohashi | Dean, Graduate School of Public Policy​
Speakers
Kazuto Suzuki | Professor, Graduate School of Public Policy​
Kenichi Ueda | Professor, Graduate school of Public Policy
Ryo Sahashi | Associate Professor, Institute for Advanced Studies on Asia​
Kucheryavyy Konstantin | Assistant Professor, Graduate School of Public Policy​
Notice
This seminar will be recorded. Recording of the seminar by participants is prohibited. We appreciate your understanding and cooperation.
Contact
graspp.pr.j(at)gs.mail.u-tokyo.ac.jp