GraSPP Research Seminar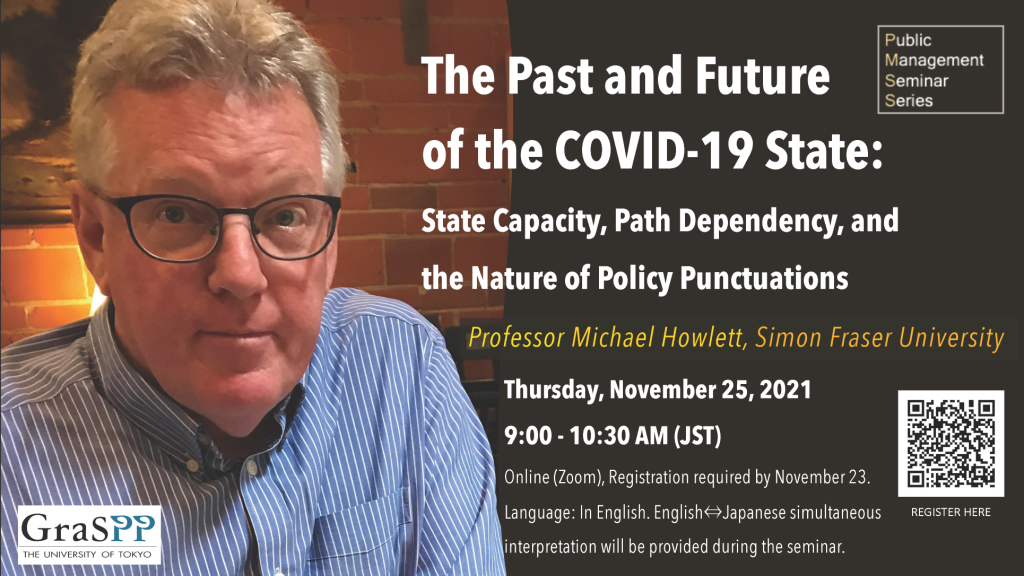 Public Management Seminar Series
Seminar No. 3
The Past and Future of the COVID-19 State:
State Capacity, Path Dependency, and the Nature of Policy Punctuations
Professor Michael Howlett, Simon Fraser University
Thursday, November 25, 2021
9:00 – 10:30 AM (Japan Standard Time)
Abstract: While a terrible tragedy for humankind, the COVID-19 pandemic has been an unprecedented opportunity for policy scientists to examine the utility of concepts and models in the discipline against what is in effect a 'natural experiment' or an impossible to replicate real world situation in which multiple states encountered the same problem, with roughly the same risks, at the exact same time. This situation, among other things, controlled for many otherwise difficult to manage aspects of state policy behaviour and allowed purchase and insight into important questions such as (1) why different governments responded in different ways to the same problem (2) why the strategies they initially adopted proved difficult to change over the course of the pandemic and (3) what impact a crisis of the magnitude and strength of the pandemic has in altering the nature of policy trajectories and the course of the "Post-COVID-19 State". This seminar examines all three issues and assesses how well policy models and concepts perform in explaining these phenomena. In so doing it examines what the activities of governments in and around the pandemic revealed about the quality and utility of policy theories related to key policy concepts like state capacity, path dependency and the nature of policy punctuations.
About the speaker: Michael Howlett, FRSC is Burnaby Mountain Professor and Canada Research Chair (Tier 1) in the Department of Political Science at Simon Fraser University in Voncouver, BC, Canada. He specializes in public policy analysis, political economy, and resource and environmental policy. His detailed bio can be found here: https://www.sfu.ca/politics/people/profiles/howlett.html
Venue
Online (Zoom)

A URL link will be emailed to the registrants by the day before the event.

The Zoom session may be recorded for administrative purposes; it will not be broadcast. Recording by the audience is not permitted. We appreciate your understanding and cooperation.

 

Language
In English

.

English⇔Japanese simultaneous interpretation will be provided during the seminar.

 

Moderator

Associate Professor Naomi Aoki

 

Registration
Required

by

November

23. Please register using the QR code

above

or the following link:

https://forms.gle/yLR5xzeUPdhDXbL69

Admission fee
Not required

C

ontact

for inquiries

GraSPP Research Seminar Secretariat

Email: graspp_eventinfo*pp.u-tokyo.ac.jp (Please replace * with @.)
Related materials:
Capano, G.

,

Howlett

, M., Jarvis, D. S. L.,

Ramesh,

M., &

Goyal

, N

.

(2020).

Mobilizing

p

olicy (

i

n)

c

apacity to

f

ight COVID-19: Understanding

v

ariations in

s

tate

r

esponses. Policy and Society

,

39

(

3

),

1

–

24. https://doi.org/10.1080/14494035.2020.1787628
Howlett,

M

.

(2021).

From

n

ational

l

ockdowns to

h

erd

i

mmunity: Understanding the

s

pectrum of

g

overnment

t

esponses to COVID-19 (2019-2021). Bestuurskunde

,

30

(

3

),

8

-23.

https://doi.org/10.5553/Bk/092733872021030003002
Hogan, J.

,

Howlett,

M

.,

&

Murphy,

M

. Re-

t

hinking the

c

oronavirus

p

andemic as a

p

olicy

p

unctuation: COVID-19 as a

p

ath

c

learing

p

olicy

a

ccelerator. Policy and Society

.

Forthcoming

.