NOTICE: This page regards the CAMPUS Asia program. Information of "CAMPUS Asia Plus" program adopted in November 2021 will be announced soon.
Unprecedented Three-way Double Degree Program by Top Universities in East Asia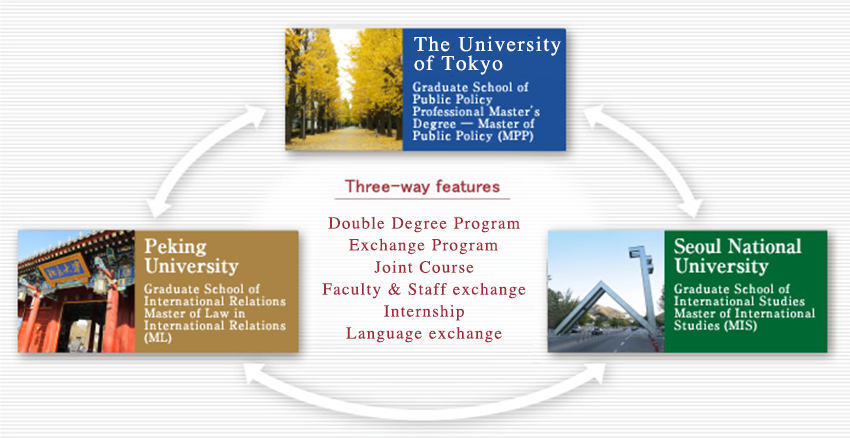 CAMPUS Asia program* is a project launched as a part of "Inter-University Exchange Project (Re-Inventing Japan Project)" led by the Ministry of Culture, Sports, Science and Technology(MEXT). The program facilitates student and faculty exchange to foster and nurture a generation of future world leaders through dynamic cross-border educational cooperation in East Asia. The University of Tokyo has been part of the CAMPUS Asia Program since its founding in 2011, and formed the BESETO Consortium with the Graduate School of International Relations at Peking University(SIS) and the Graduate School of International Studies at Seoul National University(GSIS). The unique trilateral program resulted in trilateral academic interaction, including double degree and exchange programs. In recent years, double degree university exchange programs have proliferated across the globe. Now, in a first of its kind initiative, this program has been established in three politically and economically important countries, enabling participating students to graduate after studying at three prestigious Asian universities with classes conducted entirely in English. Amid growing importance of improvements in relations between China, Japan and South Korea, for students seeking global success in leadership positions connecting East Asia and the world, this program offers a valuable and enduring experience unavailable elsewhere. *CAMPUS Asia stands for "Collective Action for Mobility Program of University Students in Asia"
Options of "Double Degree & Foreign Exchange" and "Foreign Exchange & Foreign Exchange"
Students may choose either "double degree & foreign exchange"(recommend) or "foreign exchange & foreign exchange" option. As a specific example of the "foreign exchange & foreign exchange" option, a student enrolled at GraSPP would spend their first year of study in Japan, followed by one semester each at SIS and GSIS. Students who opt for a "double degree & foreign exchange" will spend their first year at GraSPP and their second year at either SIS or GSIS, with an additional semester of study in the third country. As for tuition fees, students on this program will pay fees only to their home institution (mutual fee waiver), with no additional fees for time spent studying abroad.

Qualifications awarded
Master's degree from the University of Tokyo

Joint Certificate from the consortium