A student spoke on ways to enhance technology transfer for industrial cooperation between Vietnam and Japan
February 3, 2020
Education
The past several years have seen slow and hard-earned progress in various initiatives in deepening economic integration in the Asia-Pacific region. Such initiatives include the Comprehensive and Progressive Trans-Pacific Partnership (CPTPP) and Regional Comprehensive Economic Partnership (RCEP), not to mention the existing ASEAN-Japan Comprehensive Economic Partnership. These FTAs may have two major impacts, inter alia, firstly to deepen the existing production linkages among member economies and secondly to expand and divert trade and industrial cooperation among member economies. Being members of various regional FTAs, Japan and Vietnam find common interest in developing joint production capacity to grasp the rising opportunities from those arrangements.
Despite years of deeper economic integration, Vietnam still encounters a couple of issues. Firstly, the share of foreign-invested enterprises in exports has been increasing. Secondly, the share of manufacturing in GDP has not increased significantly, although the sector attracted a largest proportion of new FDI into Vietnam each year. To address these issues, among the required measures are more drastic efforts to create an enabling environment for technology transfer into Vietnam. While more appetite for technology transfer is understandable, emphasizing the approach towards "forced" technology transfer would increase the concern for investors. In this respect, Vietnam and Japan need a meaningful policy research and dialogue to promote technology transfer in the manufacturing sector.
Against this backdrop, Central Institute for Economic Management (CIEM) under Vietnam's Ministry of Planning and Investment (MPI) hosted a workshop titled "How could Vietnam and Japan create mutual benefit?—Engendering Japan-Vietnam Industrial Cooperation through Promoting Technology Transfer" for young researchers on November 22, 2019. After the internal screening, Dhimas Chandra Purnama, a second-year mid-career master's student at GraSPP, was invited to speak on ways to enhance technology transfer from Japan to Vietnam in the context of Japan-Vietnam industrial cooperation.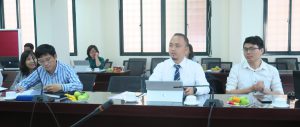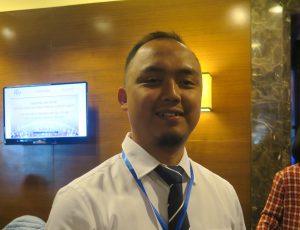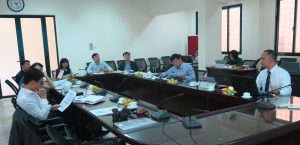 ***
An abstract of Dhimas Chandra Purnama's presentation "Maximizing technology transfer through joint ventures—opportunities and challenges for Vietnam in the Fourth Industrial Revolution"
A company to start new operations in a foreign country is expected to bring its newest and advanced technologies. Technology spillover as "externalities" along with inward foreign direct investment (FDI) could be maximized by the host country through the effective transfer of technology mechanism.
However, the mechanism of transferring technology tends to be ineffective. One of the most common reasons is inward FDI without substantial technology transfer. Some researchers argue that multinational enterprises exploit local firms rather than diffuse their own technological advantages.
Among the countries in the South Asian and South East Asian regions, Vietnam has been a popular destination for FDI over the past decades. However, a massive inflow of FDI does not seem to have been correlated strongly with effective technology transfer. Technology transfer from foreign invested enterprises to local firms is seen as limited.
To maximize opportunities for Vietnam to become a high-income emerging economy while hosting a large number of FDIs with effective technology transfer, I propose that the Government of Vietnam promote joint ventures, which have several positive impacts for both foreign investors and local firms. A broader range of local firms could be recipients of externalities resulting from joint venture establishment.
The proposed joint venture mechanism could help technology transfer through three different channels, namely internal, intergenerational, and external. With the internal channel, a foreign partner firm conveys its practical knowledge, technology or intellectual property for the benefit of the joint venture. With the intergenerational channel, it is not only a local partner firm but also the domestic parent company that indirectly gain the benefit from the joint venture. Meanwhile, with the external channel, other firms outside the joint venture would gain positively by the penetration of joint ventures into the industry.
Joint venture operation might be the solution against ineffective technology transfer in Vietnam. Therefore, the Government of Vietnam should enhance its efforts to eliminate or minimize restrictions, difficulties, and barriers for joint venture operations.
Vietnam's efforts to improve ease of doing business are underway. The country has successfully raised its score on the 2019 list by 1.59 point and thus achieved the third highest score of ease of doing business among South East Asian countries after Malaysia and Thailand.
Joint ventures in Vietnam, however, do not always have a happy ending. Back in 2008, there was an incident in which a foreign partner firm shifted technologies back to its home country and left the local partner firms nothing but the building, according to an article "Technology transfer continues to be a big issue in luring FDI" by Van Anh in Vietnam Investment Review (July 7, 2018).