CAMPUS Asia 2019 Fall Retreat in Fukushima
February 13, 2020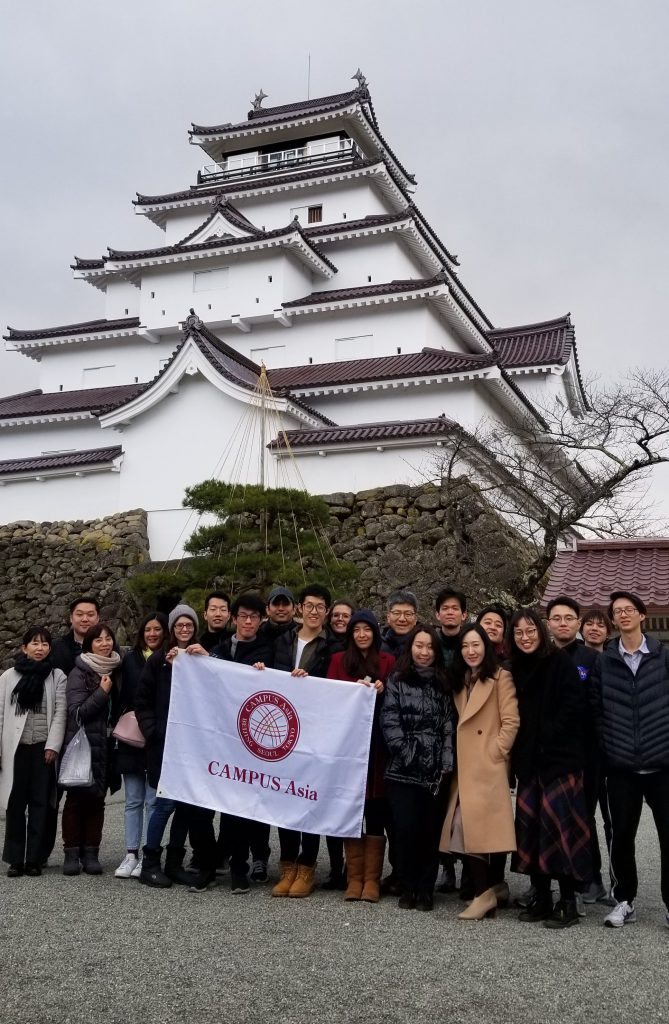 A Field Trip was conducted on January 9th and 10th, as the highlight of this semester's program activities. CAMPUS Asia Students from The University of Tokyo, Peking University and Seoul National University and faculty members visited Fukushima Prefecture. Some alumni of the program and other GraSPP international students could also join the trip, which made us a more unique and diverse team than ever.
The main concept of this trip was to learn industrial revival of Fukushima prefecture, focusing on the ongoing Smart City projects as well as the history of Aizuwakamatsu. On the first day, an Aizu-native alumnus of the program acted as a guide and we visited Tsuruga Castle and Iimori Hill to learn about the history of the Boshin War and modernization of Japan. During the discussion session, the participants made presentations and exchanged their views on what they had learned about the Smart City project, an industry-government-academia initiative currently in progress in Aizuwakamatsu City. On the next day, we had a chance to visit the Accenture Innovation Center Fukushima and had the privilege of gaining some insight into the project directly from the mayor, the center lead, and some key figures of the project.
In order to experience Japanese culture, we also extended our visit to some historical storehouses dating back to the Edo period in Kitakata City and learned the process of sake brewing, as well as experiencing hot spring bath and local cuisine.
While enjoying occasional flurry of snow on the way and feeling a sense of warmth and hospitality with the spirit of Aizu throughout the trip, we could deepen relationships among participants.